Beach Loving Music Fans From Around the Globe Converge on Panama City Beach for the 11th Annual Gulf Coast Jam Extravaganza
If you're a fan of country music, and America's favorite beach communities, then you probably already know about Gulf Coast Jam, and how what started as a medium size outdoor music festival has now grown into one of the top three country music festivals in the country. With attendance above the 30,000 mark for the headlining shows in 2022, this year's Jam is proving to be more popular than ever. And, it's right around the corner, June 1-4 in beautiful Panama City Beach, Florida.
Having attended and covered the festival for six years now, I can assure you it will not disappoint. I've seen everyone from Tim McGraw, Luke Bryan, and Florida Georgia Line to Riley Green, Big & Rich, Lynyrd Skynyrd, and Kid Rock play to Gulf Coast Jam's growing crowds of music lovers — and every single year the shows get better. And if great music isn't enough… did I mention it all happens in the heart of Panama City Beach?
This year's 11th iteration of the Country on the Coast festival takes place June 1-4 at Panama City Beach's Frank Brown Park, where the fun starts in the early afternoon hours and goes well into the night. As the sun goes down and the crowds grow you can not only hear, but feel, the excitement in the warm Gulf Coast air.
2023 Gulf Coast Jam Headliners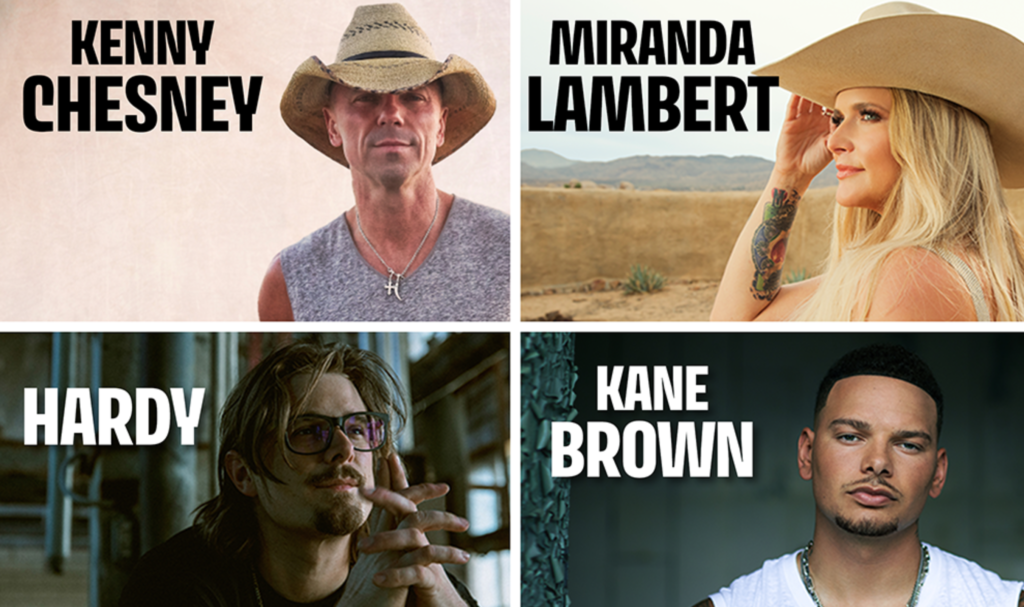 For 2023 Gulf Coast Jam's headliners encompass some of country's most popular current artists, including Kenny Chesney, HARDY, Maranda Lambert and Kane Brown. Other well-known hit-makers include Chase Rice, Justin Moore, Gabby Barrett, Breland and Bailey Zimmerman. Many others round out the total 32 artists taking the stage over the four day event.
Kenny Chesney's late addition to the bill was secured only four weeks out from the festival weekend, having been added as the replacement for Morgan Wallen, who has been forced to cancel a chain of concert dates due to a vocal issue. I've had the pleasure to see Kenny play at both festivals and live at the CMA Awards. I can assure anyone who hasn't seen him work a stage and crowd that he 100% knows how to throw a party. He's been doing this for a while, having packed stadiums around the world over the course of his 31 years (since being signed to a label) producing 20 Albums, 40 Top Ten singles, 32 Number One Billboard country hits, and being named CMA's Entertainer of the Year, four years in a row.

Across my years in media, having attended and covered concerts by a wide array of artists — including other outdoor music festivals — the one thing I am always in awe of is that even with today's ever-increasing ticket pricing for single concerts, the producers of Gulf Coast Jam still find a way to offer such a remarkable and affordable package.
My friend, Craig Campbell, of Campbell Entertainment Group in Nashville, has played an instrumental role in orchestrating various behind the scenes aspects of Gulf Coast Jam since its first year, and has told me, firsthand, that the talent alone runs well into the multi-millions each year. Not surprising, considering the level of artistry the festival continues to secure.
Campbell went on to explain, "it's actually because of our great sponsorships, and the generous support of Panama City Beach that we are able to throw this level of music festival and keep the ticket prices where they are. That's one of the aspects that Rendy Lovelady and Mark Sheldon [the festival founders and organizers] are most proud of. Bringing great music to Panama City Beach and making it attainable to most everyone."
Tickets and Lodging for Pepsi Gulf Coast Jam
For additional information you can follow Gulf Coast Jam on Facebook and Instagram or visit them online  where you can grab your t-shirts, hats, and festival merchandise early. If you're lucky, grab one of the few secondary sell tickets as they become available.
Visit our Panama City Beach vacation rentals to book the best hotels, condos, and beach houses in the area.
Writer Bio:
Will Estell is a writer, media entrepreneur, and real estate professional with over 600 published
magazine features in an array of genres. Over the past 25 years Will has been instrumental in founding
twelve new magazines from concept to fruition, as well as serving as editor in chief for numerous others.
Originally from the backwoods of rural Mississippi, Will is a father of three who splits his time between
Destin and Navarre, along with his wife, ABC 3 news anchor, Laura Hussey. Will is a regular contributor
to BeachGuide and a big fan of country music.
Save
Save
Save
Save
Save
Save
Save
Save
Save
Save
Save
Save
Save
Save
Save
Save
Save
Save
Save
Save
Save
Save
Save
Save
Save
Save
Save
Save
Save
Save
Save
Save
Save
Save
Save
Save
Save
Save
Save
Save
Save
Save
Save
Save
Save
Crowd-pleasing favorite Luke Bryan closed out a past GCJ with a record-breaking crowd.