Beaches Negril Resort & Spa … Perfectly Paradise
Seven miles of white sand beach and all-new resort rooms and suites at Beaches Negril bring you together like never before for unlimited fun that's perfectly paradise.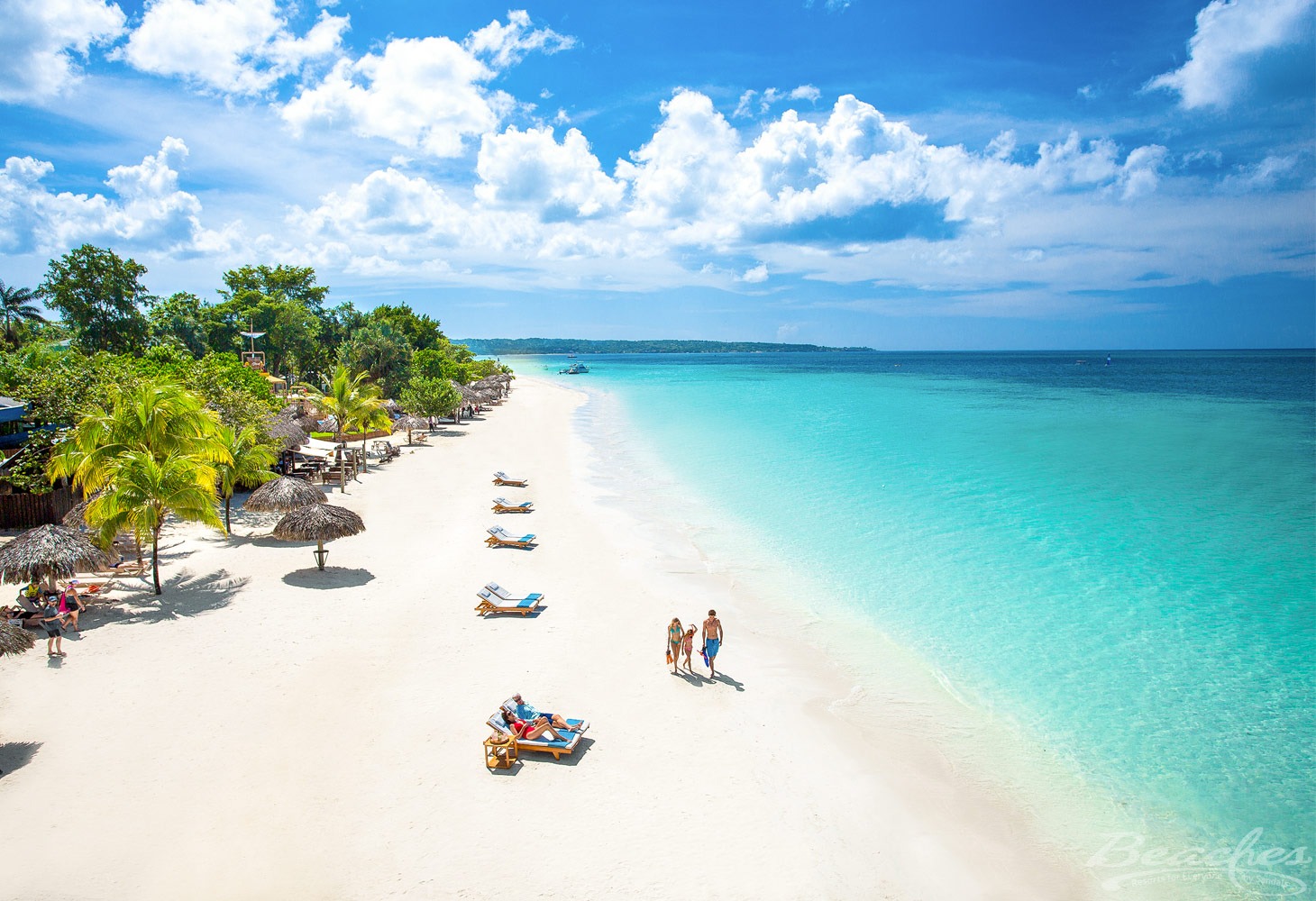 The waiting is over. Your nonstop luxury vacation awaits you with open arms at Beaches Negril Resort & Spa, where all-inclusive always delivers unlimited fun.
Voted Trip Advisor's Travelers' Choice Top 25 Beaches in the World in 2019 for the second year in a row, Beaches Negril earns its accolades in every aspect of all-inclusive Caribbean magic. Overflowing in luxury with its all newly appointed resort rooms and suites, 5-Star service, global gourmet cuisine, expansive water park, and unlimited fun for the whole family, Beaches Negril is the destination hot spot of a lifetime.
Beaches Negril is all about pampering families and couples from the moment you arrive at the airport. Boarding special stress-free transportation to the resort, Beaches Negril handles all of the details for your arrival. You will feel right at home in its laid-back paradise living.
You'll also know right away that this is the vacation you've dreamed of all along. From the wide open blue Caribbean ocean to the tropical specialties on land, Beaches Negril opens all the doors for easy, all-inclusive limitless bliss.
Unlimited Fun for the Taking at Beaches Negril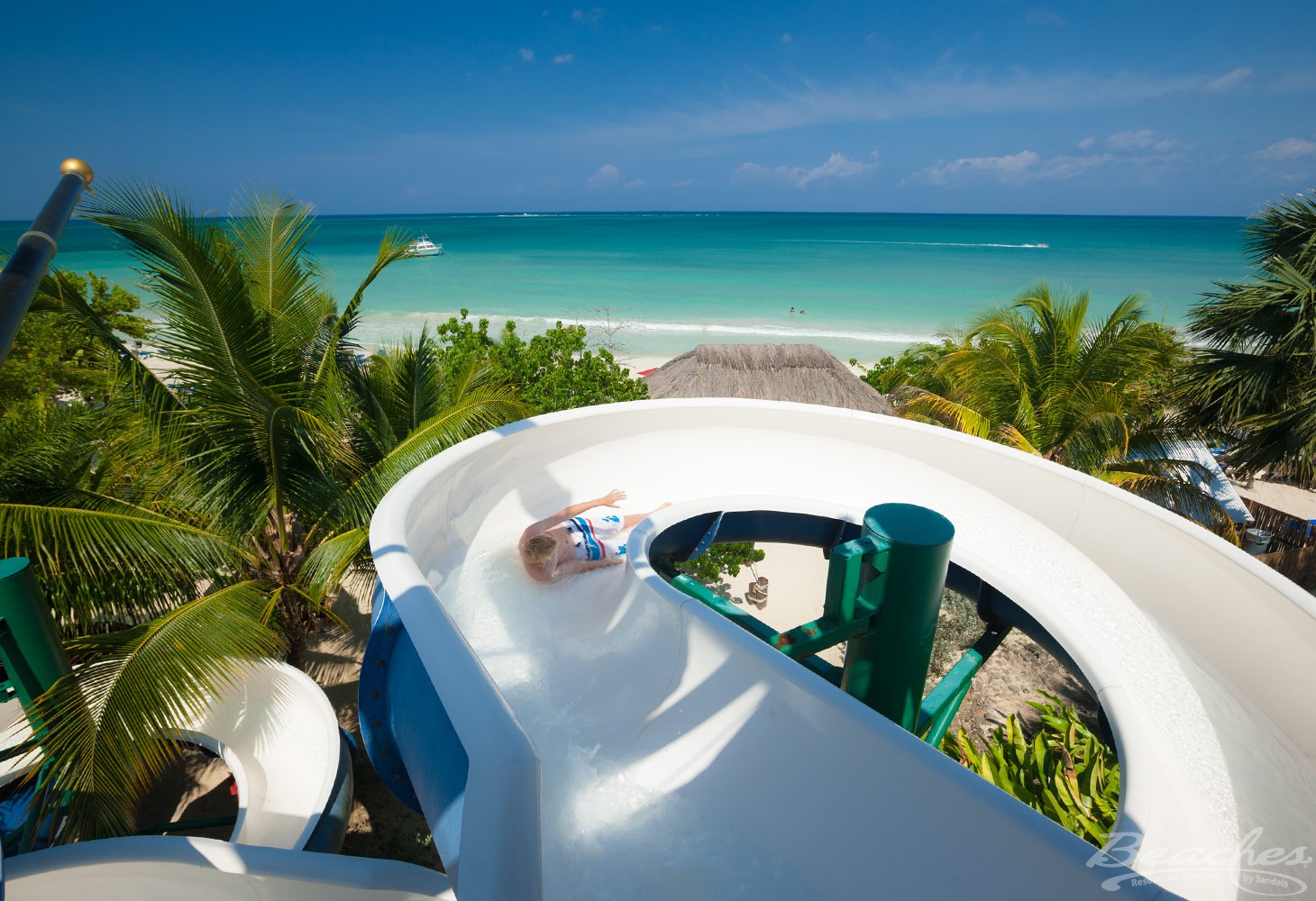 Imagine dining on dishes made famous around the world, scuba diving with a pro, catching a water park with the kids and sharing a cocktail and sunset with your partner – all in one day. Beaches Negril makes it all possible with its inclusive resort offerings to enjoy as often as you choose. Leave your wallet at home – Beaches Negril has you covered, no matter how many times you order dessert or take out the paddleboat.
At Beaches Negril, you are king or queen for the day, every day.
All-New Resort Rooms and Suites at Beaches Negril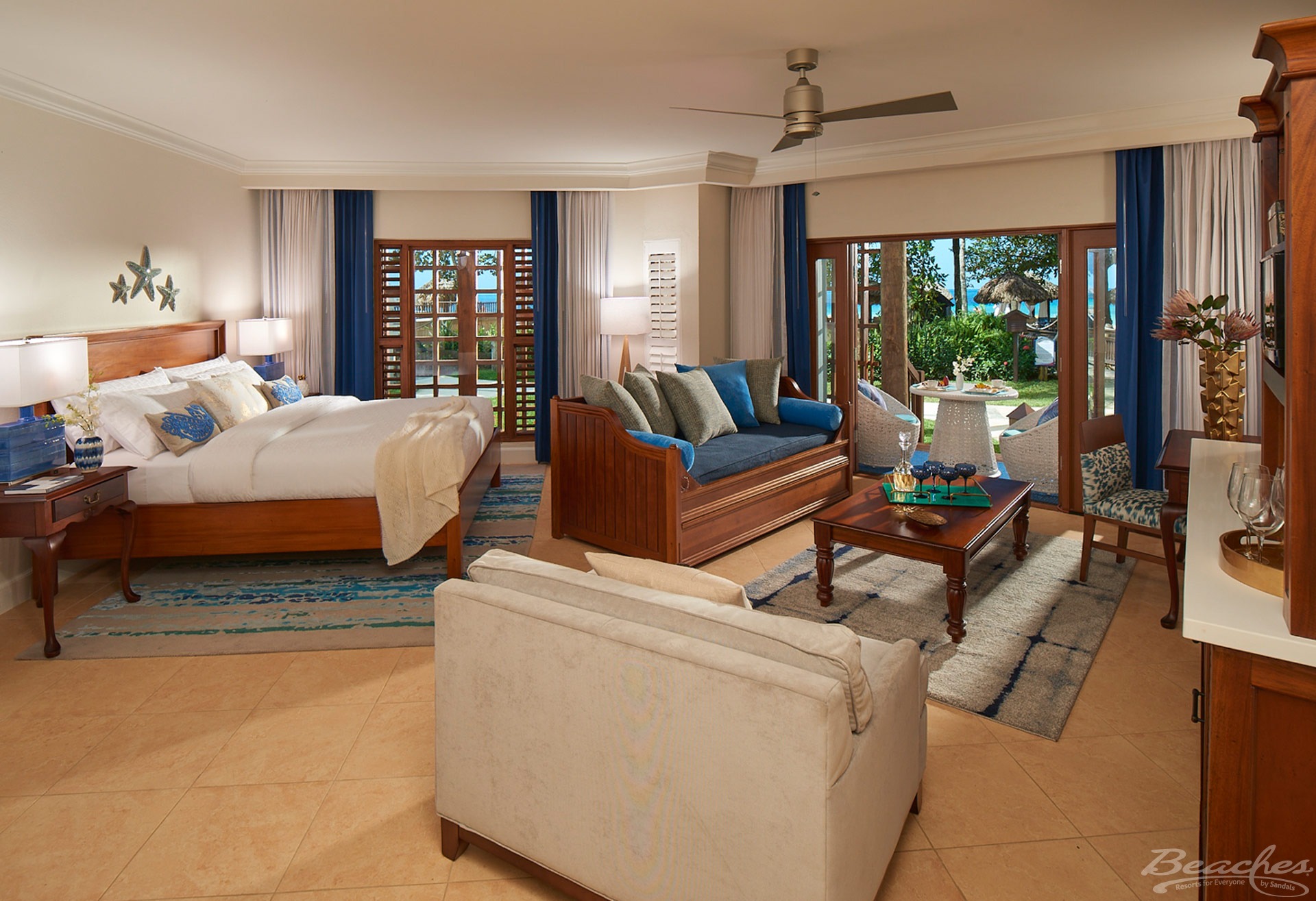 Beautiful new rooms and suites are available for reservations and come with all the inclusive resort specialties of luxurious Beaches Negril. A tropical beachfront, three-bedroom family suite which comfortably sleeps 12 with an ocean view. Or a grande luxe double with garden view accommodating up to four with seven miles of resort beaches to roam.
All rooms come with an in-room refrigerator with beverages including juice, wine and beer, private balcony or patio, daily housekeeping, and all of the extra amenities you'd expect from a 5-star resort. Visit here to learn more or book online.
Beaches Negril Pricing
Adults Price from $280 PP/PN (USD)
Child Price from $38 PP/PN (USD)
All-inclusive visit includes unlimited dining, premium liquors, 7 bars, tips, taxes and gratuities, roundtrip airport transfers, Kid Camps, waterpark, all water and land sports on resort and fitness center. Current deals include a Free Night plus 65% off and $335 in air credit.
Butler Pampering at your Service at Beaches Negril
You don't have to be a royal to receive professional butler service. Top-tier accommodations include personalized Butler Elite services for exclusive white-glove treatment. Your professional butler is ready to make each moment special, anticipating every need for fresh towels, dinner reservations, pool service, laundry, a cocktail refresh, or warm cookies for the kids.
Together Nest Suites at Beaches Negril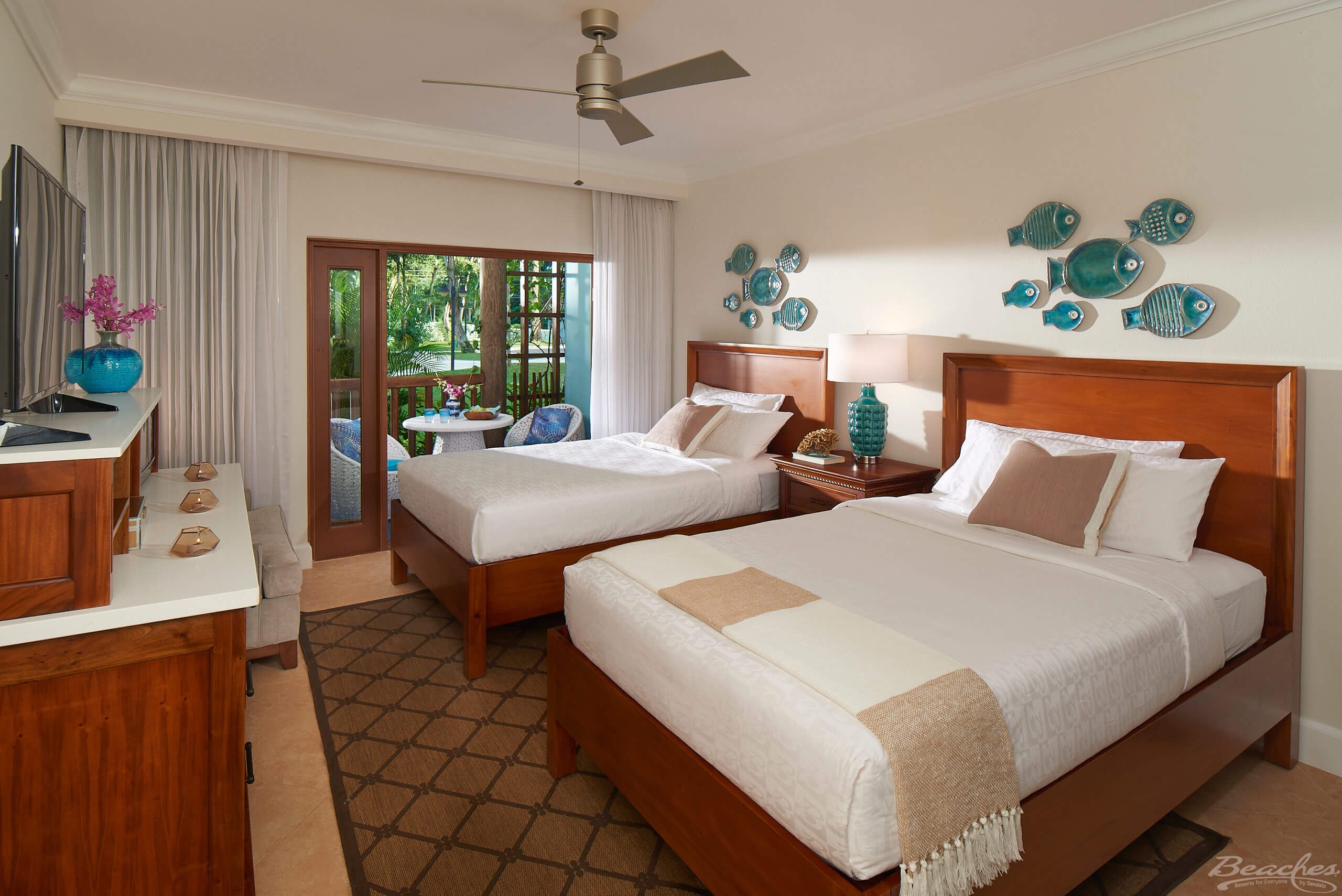 Comfort is key to keeping everyone together. Designed with families and couples in mind, every detail is noted in Beaches Negril's Together Nest Suites. Luxurious bedding, stately mahogany furnishings, warm wood trims and plantation shutters, and a private balcony or porch beckon you to take it all in from morning till bedtime.
World-Class Gourmet Dining for 5-star Tastebuds at Beaches Negril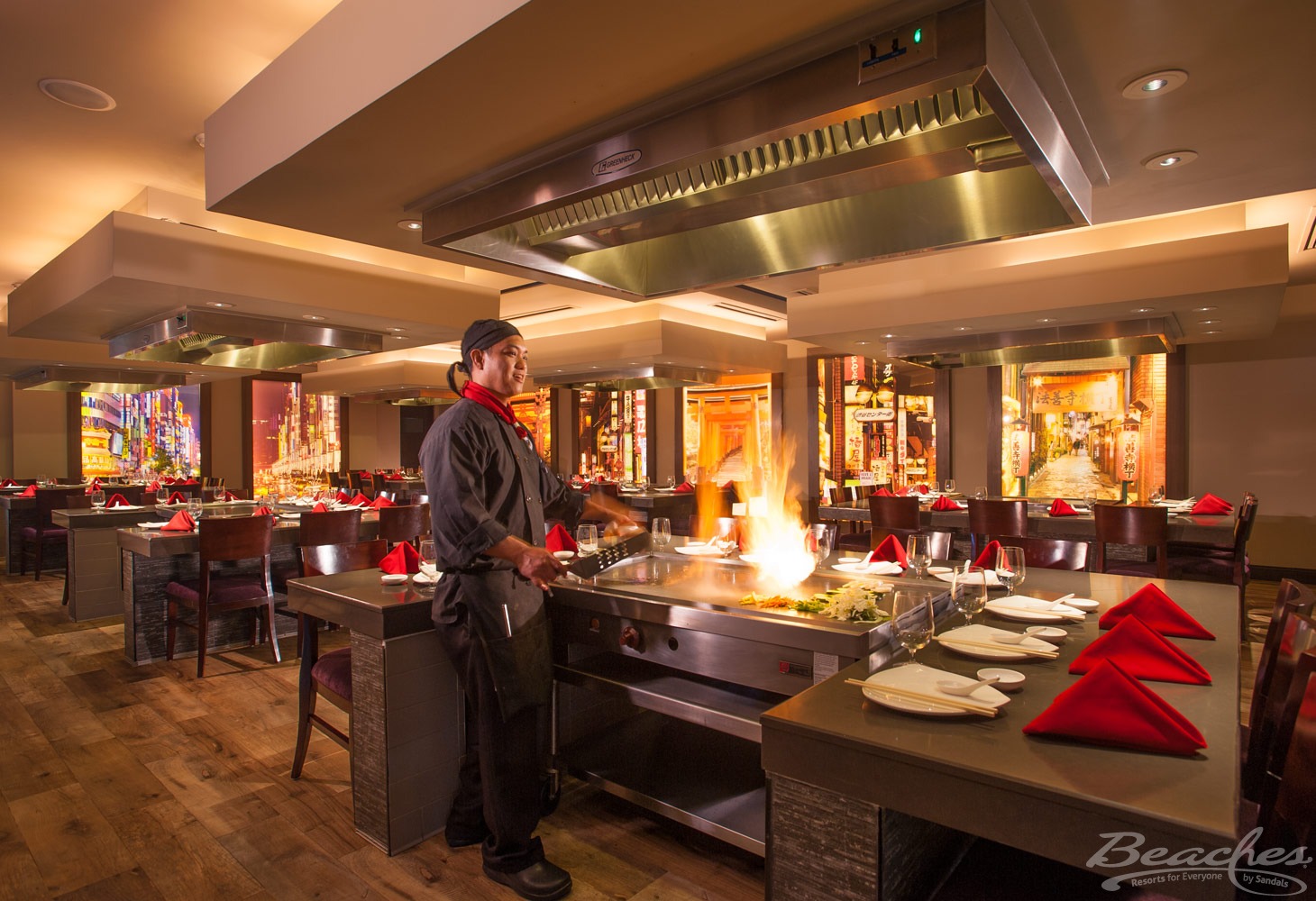 When you spend a week with Beaches Negril, you better bring your appetite to savor the unlimited tastings of globally inspired goodness. All ages find their happy spot in our dining options, choosing from nine gourmet restaurants with culinary menus of all assortments. Dine together on the beach on freshly grilled seafood, choose a wood-fired, made-to-order pizza, or have the kids sample sushi for the first time as they widen their perspective of the world.
Five-star premium liquors are always included and unlimited, as well as Robert Mondavi Twin Oaks wine, created exclusively for Beaches resorts.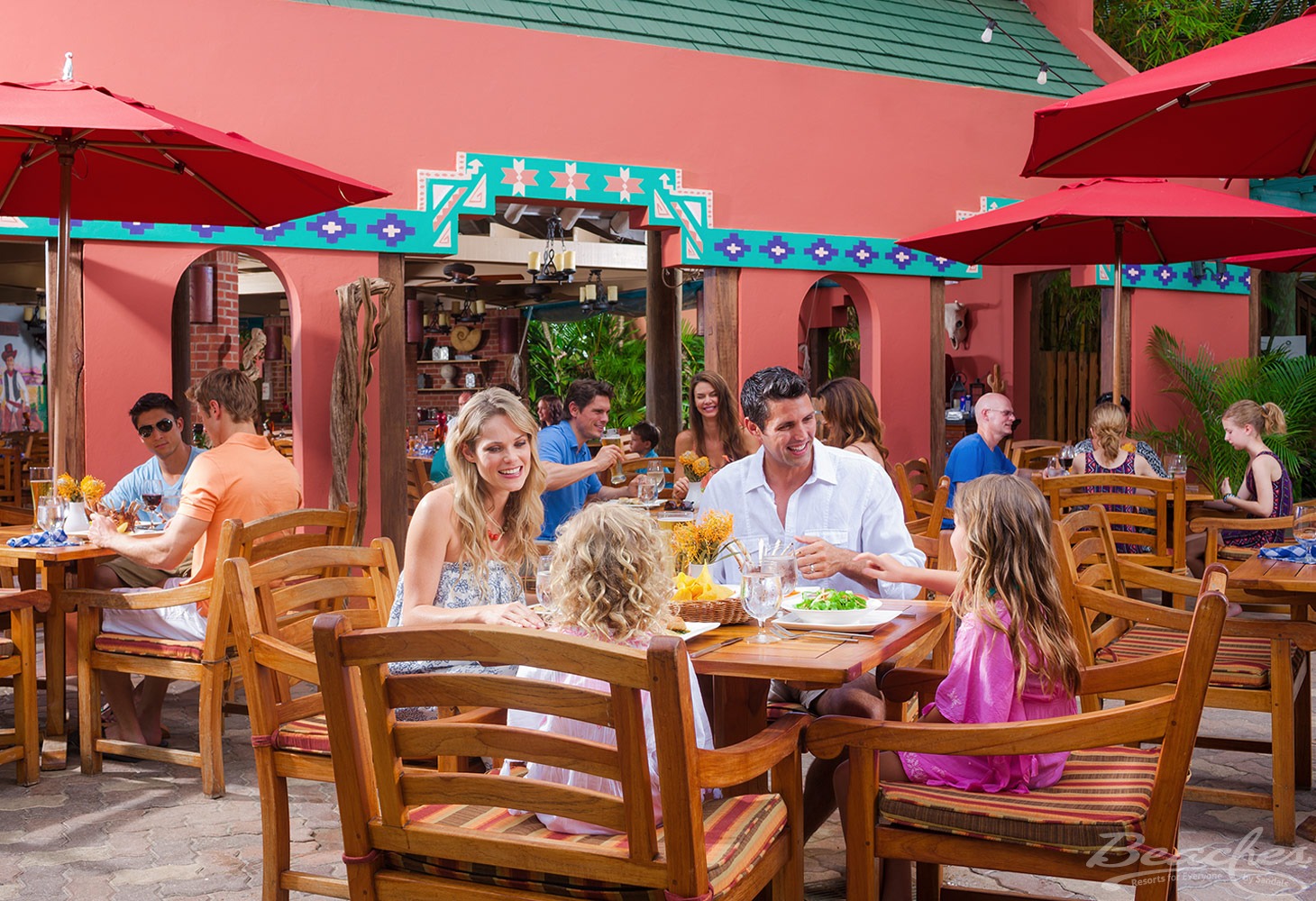 The Ocean is a Playground at Beaches Negril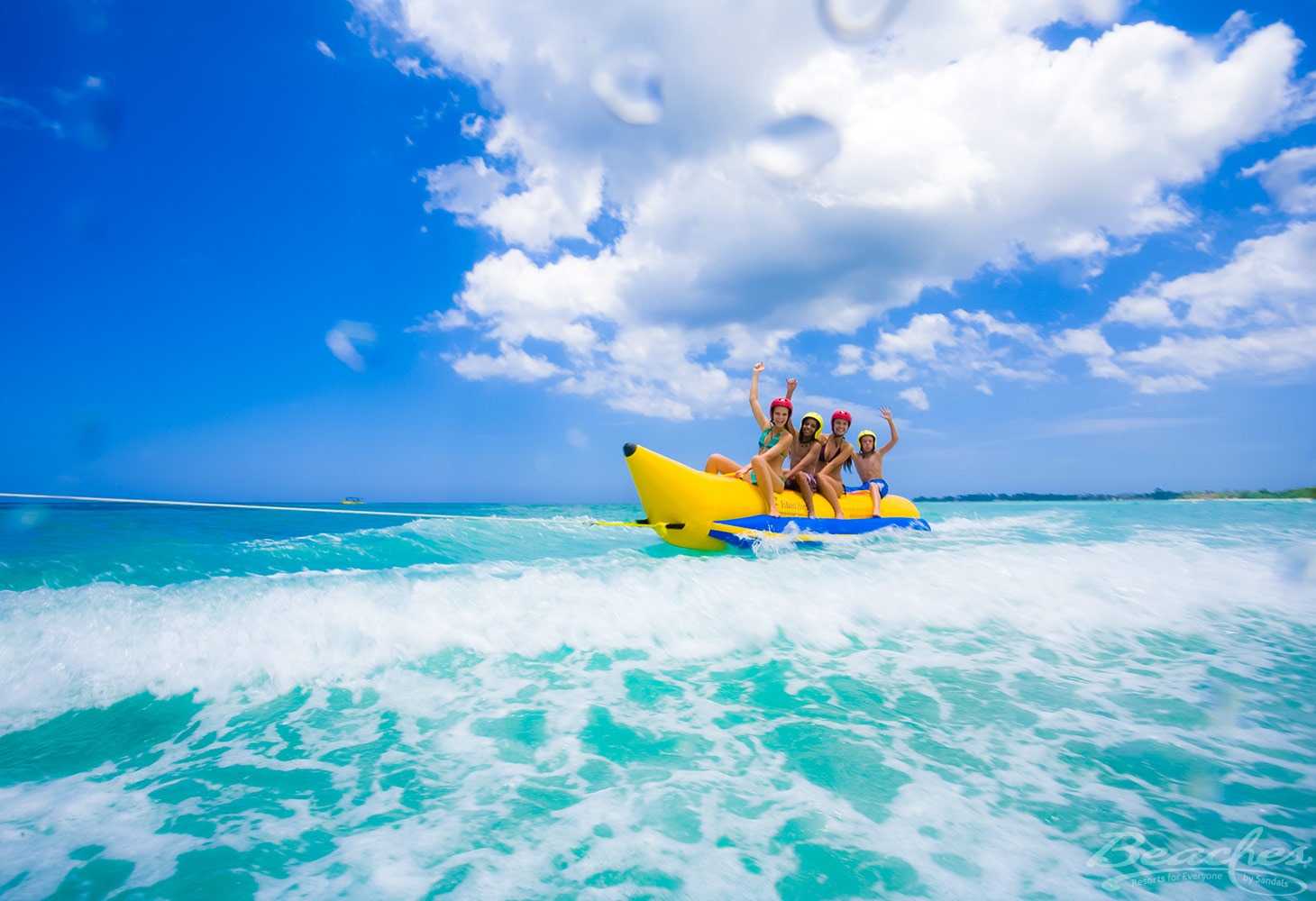 You'll never find another spot like Beaches Negril, where unlimited daily use of kayaks, windsurfing, Hobie Cats, snorkeling, paddle boarding, waterskiing, and PADI-certified scuba diving abounds. All you have to do is jump right in to experience new or seasoned water sports, finding your best fit for fun. Play as long and as often as you like, spreading your vacation budget even farther for the win.
Land and Water Sports Lovers Love Beaches Negril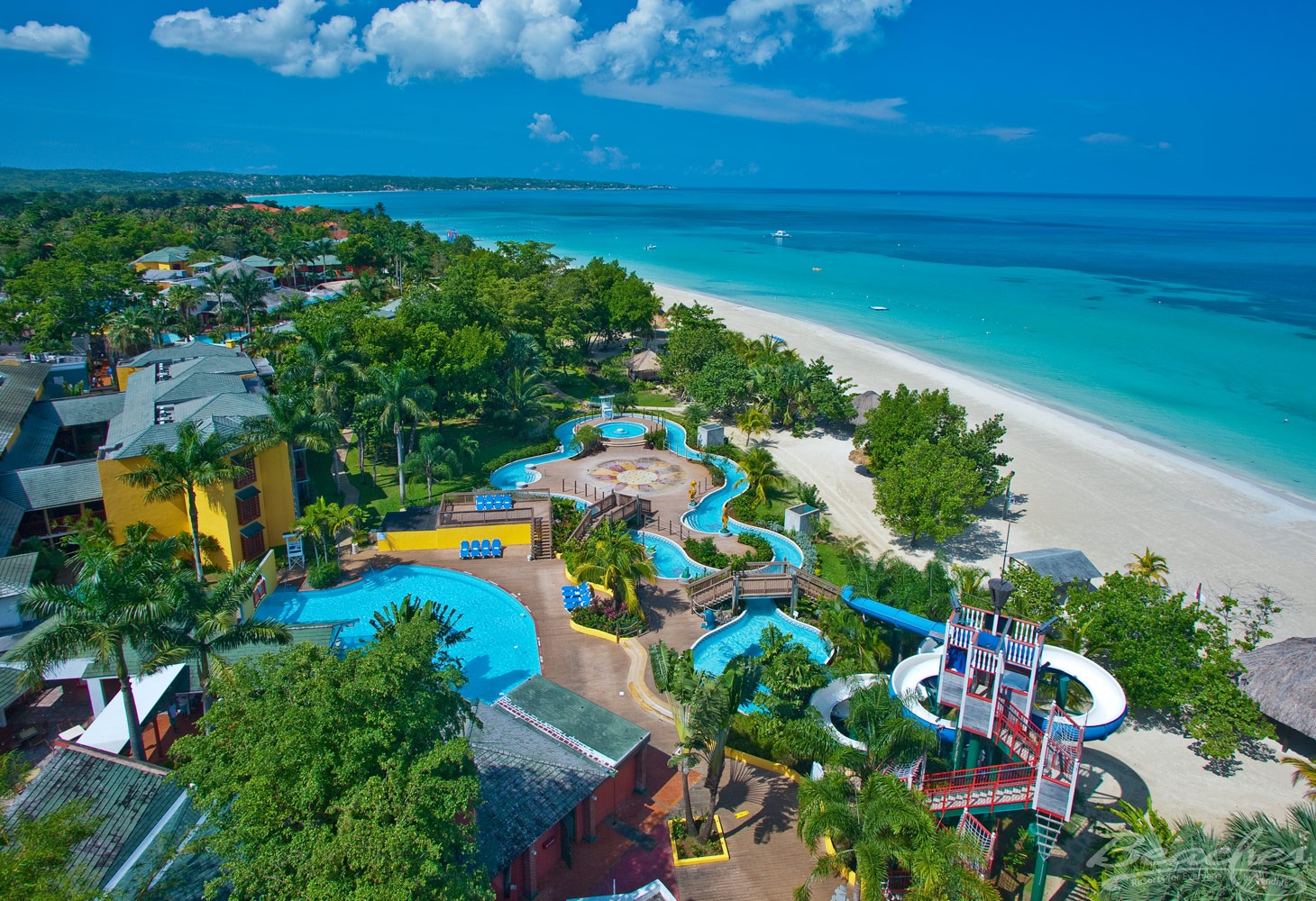 Unlimited fun proves exceptional on land with three freshwater pools, lighted tennis courts, state-of-the-art fitness center, basketball, beach volleyball, billiards, bocce ball, table tennis and more.
There's even a Resort Pirates Island Waterpark flaunting a fantasy world filled with gigantic waterslides, plunge pool, lazy river, splash zones, swim-up bar and more. Plus, it's all located right by the ocean. Perfection!
Toddler, Kid, Tween and Teen Friendly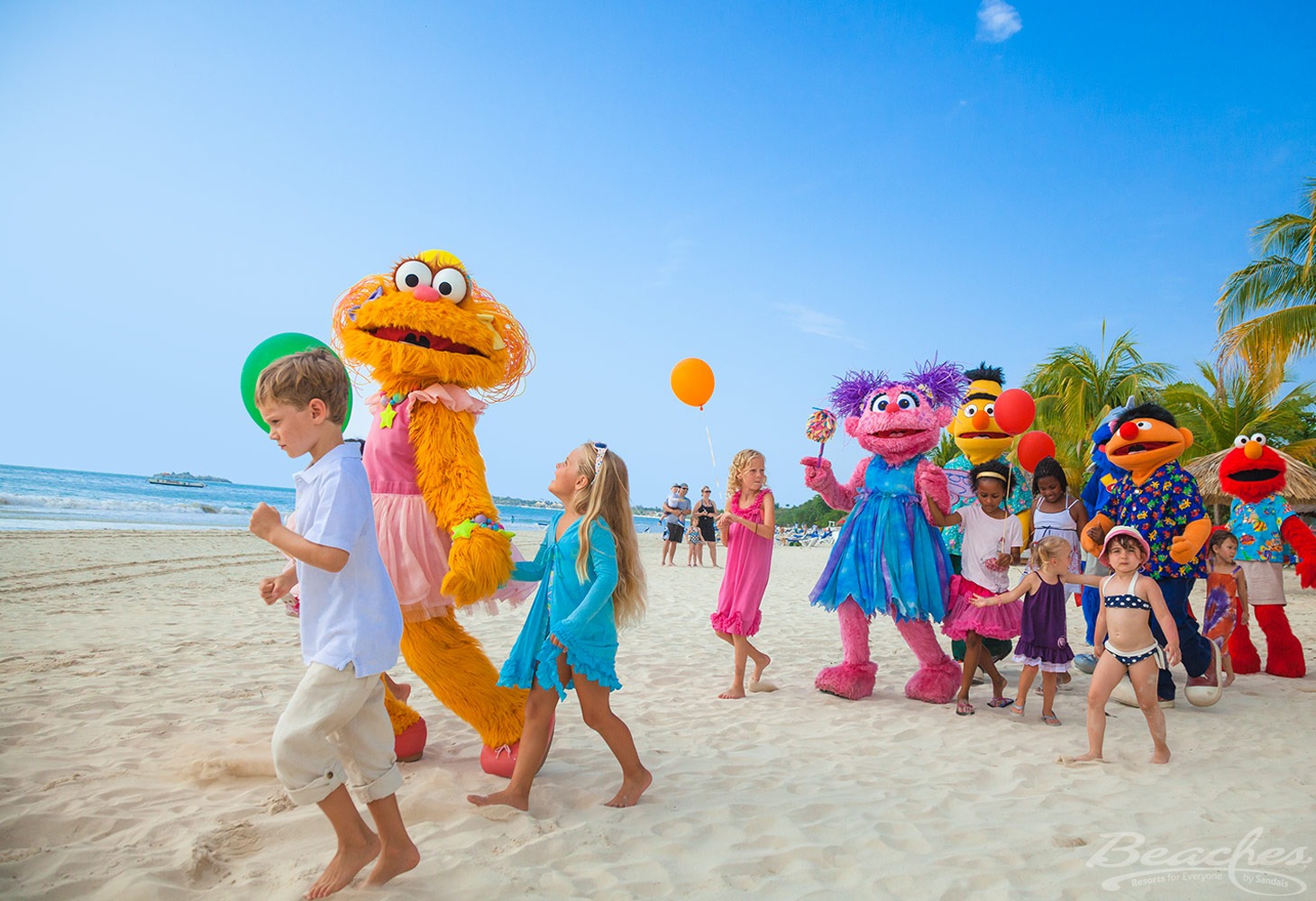 Beaches Negril knows how to deliver on family fun, including giving kids and tweens time on their own to explore, learn and grow. Kids Camps are always included in your stay with tailor-made, supervised fun for ages 3 and up. Professional nannies care for infants to age 2 in a luxurious, climate-controlled nursery.
The resort even offers a program for kids with autism and other special needs. and age‐specific programs for infants, toddlers, pre‐teens and teens.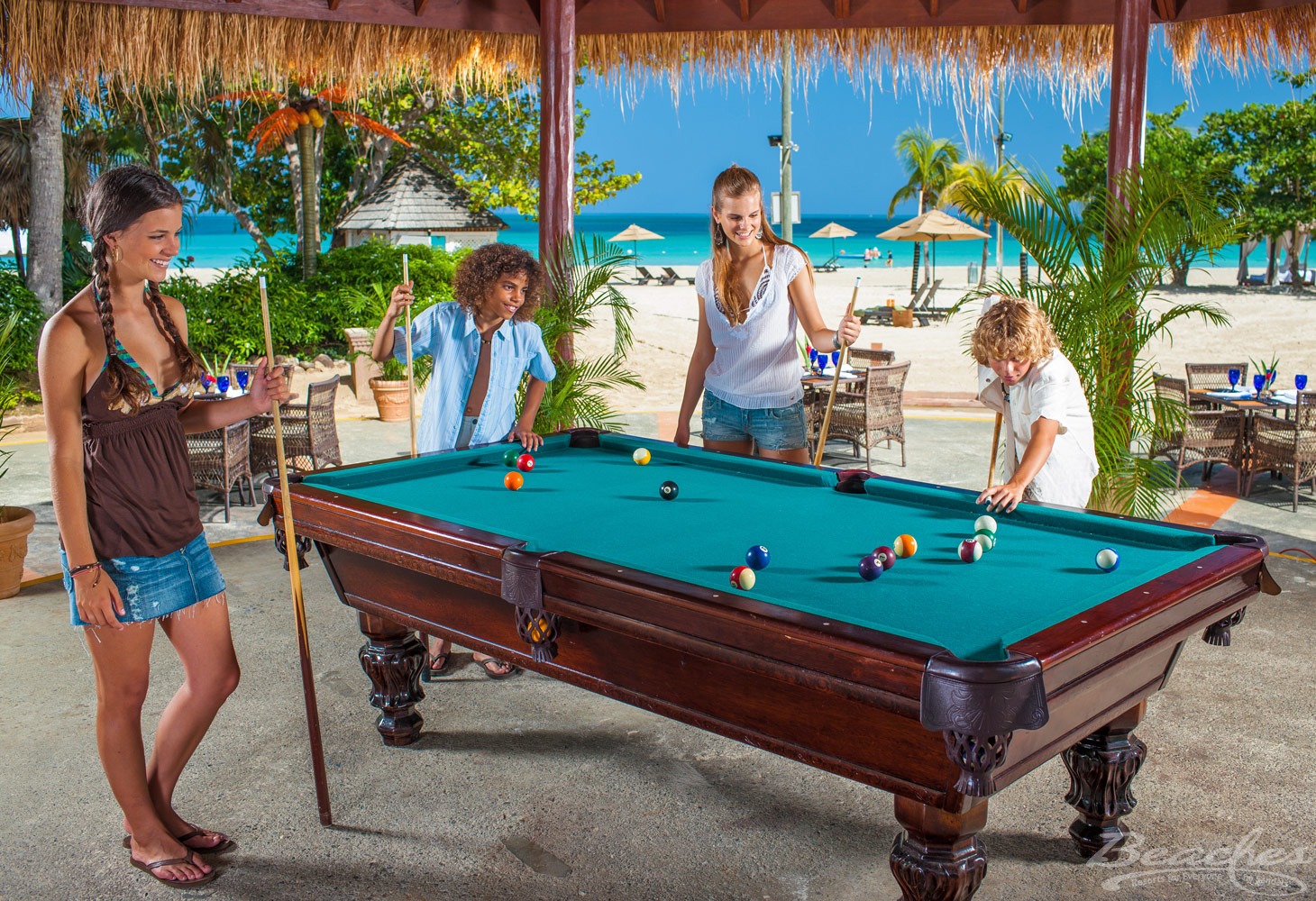 Tweens have a blast in their own program complete with dive-in movies, Karaoke, flag football, and more.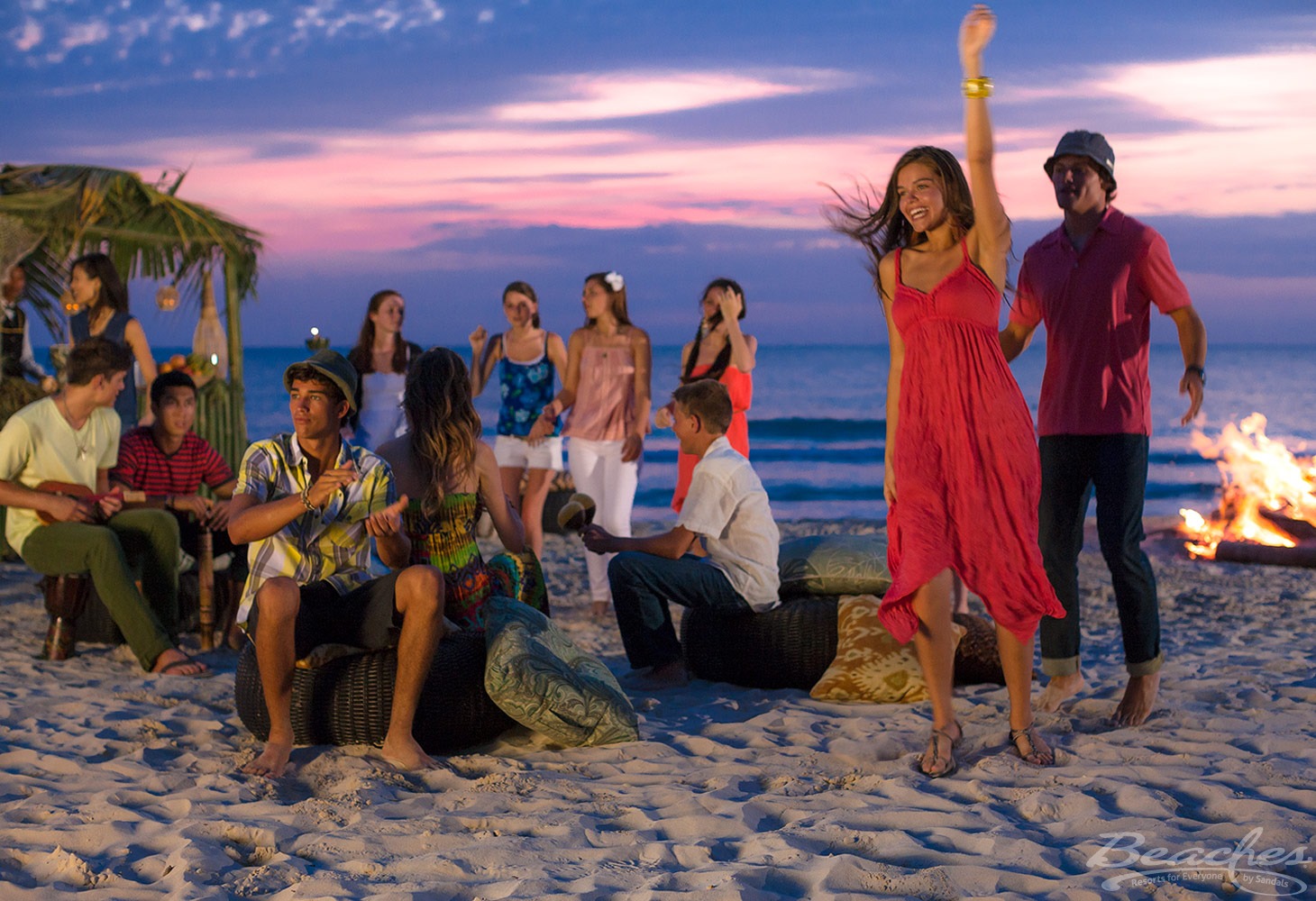 As for teens age 15-17, the Teen Program keeps them on-the-go with activities like Pool Olympics, boat cruises, dance parties and talent shows.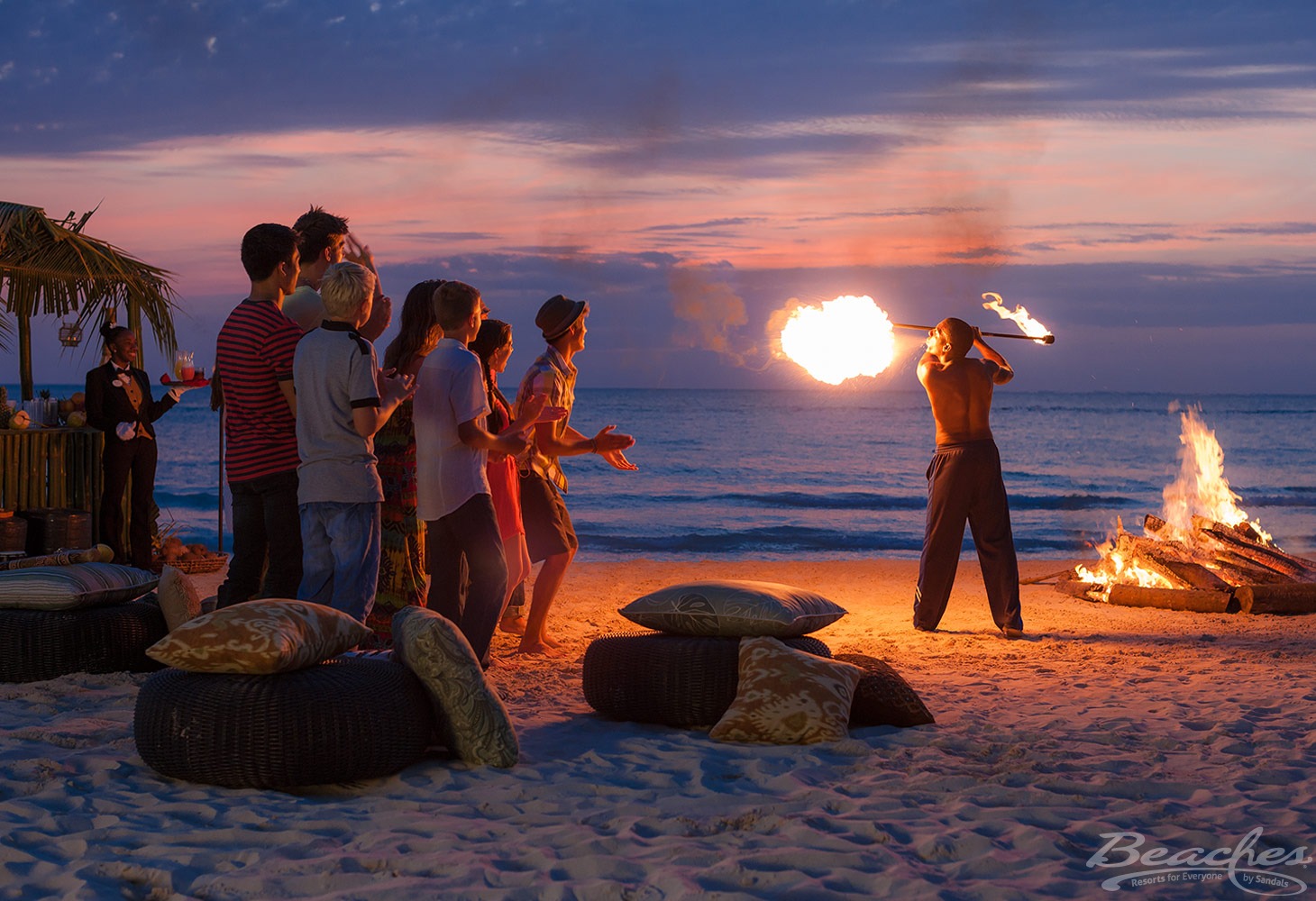 Many Beaches Negril rooms and suites qualify for special discounts and services such as one free night, instant credit, or spa treatments. Call BeachGuide to get the most for your vacation experience as we connect you to the beauty, luxury, and unlimited fun of a Beaches Negril Resort & Spa vacation. Call 888-404-2602 for rates!
Before you book your stay, consider whether or not you need travel insurance. Here are our tips on knowing whether or not to buy travel insurance.
Beaches Negril Platinum Protocols for Cleanliness
Beaches Negril Resort & Spa has always been scrupulously cleaned and sanitized every hour of every day. But now more than ever, its existing industry-leading practices are being enhanced to include several pre-emptive cleanliness measures, guaranteeing guests the peace of mind to enjoy your family vacation with the utmost confidence. Teams follow the Eighteen Touch Point Practice for elevated hygiene practices to keep guests healthy, safe, and content.
So wait no longer. There's no better time than now to book your memorable vacation at Beaches Negril!
Originally written by Lisa Milberger Moore in 2021 and updated in 2023 by BeachGuide staff.