Find the Best Beer at the Beach at these Gulf Coast Breweries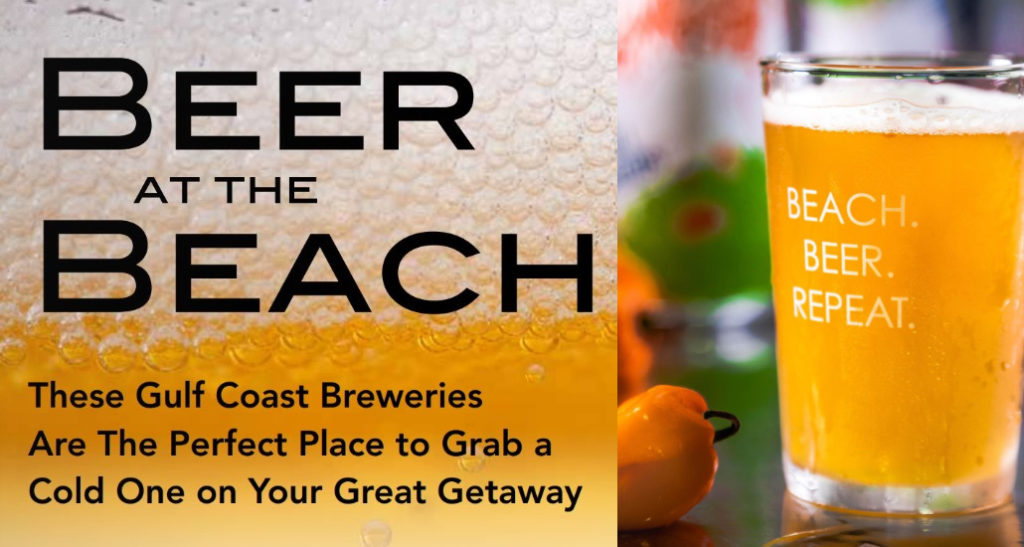 If you're a fan of great craft beer and beautiful beaches you're definitely in luck when deciding to hit this strip of white sand and emerald waters, looking for either.  In addition to the remarkable views, hot summer nights, and great food and fun, this immensely popular destination is also home to an array of Gulf Coast breweries, each representing their own unique vibe.  
As is the case with most everything along this strip of paradise, these coastal brewers are inspired by the laid-back atmosphere and good times that each year continue to entice millions of vacationers, from all around this great country, to flock to 'America's Favorite Beach Playground.'  
Destin Brewery 
Situated on Mountain Drive in old Destin, the folks at Destin Brewery have combined their love of the Emerald Coast with a passion for craft beer, and brewed them into a line of beers that reflects the style, flavor, and fun of Destin.  Whether you're at home, the beach, the boat, or simply chilling at a favorite watering hole, you're sure to find something that appeals to your taste in one or more of the family of Destin Brewery beers. 
The owners tell me their brew house started with a three-part brew system, including three four-barrel fermenters, a chiller, a hand-built walk-in cooler, and wall-mounted tasting taps. The brewery continues to grow year-after-year thanks in large part to the support of the locals and tourists alike.
With brews like Destin Ale, Bridge Rubble Double India Pale Ale, Ultra Blonde, and their Coastal Fizz -Lavender Mojito it's no wonder this little coastal hotspot took home the award for "Florida Brewery of the Year" at the 2021 New York International Beer Competition.
McGuire's Irish Pub
If you've visited Pensacola Beach or Destin very many times you've certainly heard of McGuire's Irish Pub. What you may not have known, however, is that not only are both of these locations of the family-owned restaurant great places to dine, but both have their own micro-brewery onsite, and serve an array of traditional and seasonal offerings, from their Light Ale and Irish Red to their McGuire's Porter and heavy Irish stout. 
A notable bit of brewing history is that McGuire's Pensacola location is actually the first licensed microbrewery in the state, dating all the way back to 1977, with the Destin location opening in 1982. Each location is known for being adorned with over a million dollars in one dollar bills hanging from their ceilings and walls.
My personal suggestion on the beer is to grab their sampler, where you can try six different brews, in smaller servings, before deciding on a favorite for your meal. Did I mention the food is absolutely great too?
Fairhope Brewing Company
This LA craft brewery (lower Alabama, that is) was founded in 2012 by a group of self-proclaimed beer geeks who wanted to make, and share, beer they liked and would drink themselves.
Located at 914 Nichols Ave., a block off Highway 98 in Fairhope, AL, and less than five minutes from downtown, Fairhope Brewing was the very first production craft brewery to open in the entire state of Alabama since prohibition.
What started as just two beers in their taproom has now grown to be 15 regular selections, and vast seasonal and small batch offerings. Open six days a week, their taproom offers a laid-back atmosphere, and features house-made wine and cider. For beer enthusiasts interested in checking out what goes on behind the scenes, tours are also offered based on time and availability. 
Perfect Plain Brewing Co.
Opened in 2017, Perfect Plain Brewing Company is a locally inspired craft brewery in downtown Pensacola. The name was inspired by a letter written to a friend in 1821 by Rachel Jackson, wife of President Andrew Jackson, with a heartfelt depiction of Pensacola as "a perfect plain." Designed to bring people together in a spacious, welcome environment, Perfect Plain's taproom has long communal tables, a 10-barrel brew house exposed within the gathering area and an expansive, dog-friendly patio facing Pensacola's historic Garden Street. 
In 1764, any resident who purchased land was given a companion parcel to use for a garden. To this day, the boundary lines of Perfect Plain's space fit the original "Garden lot" dimensions. Portions of the building date back more than 75 years and have been preserved as a part of the city's rich history. Open seven days a week serving craft brews and cocktails, Perfect Plain has a penchant for capturing the heart of its visitors just as the city has for hundreds of years.
Gulf Coast Brewery
Located in downtown Pensacola, this microbrewery also has a taproom and cigar lounge with a walk-in humidor cigar shop. New to the scene, Gulf Coast Brewery opened in 2019 and has quickly become a favorite among locals. Boasting 23 taps, the brewery is open seven days a week with a full wine selection, weekly specials and a daily happy hour. 
Although looks may be deceiving from the curb, the inside of this brewery resembles an old English library, equipped with a charcoal filtration system, ping pong tables, cornhole boards and more. There's also outside deck seating. Family and dog friendly, there are plenty of TVs inside and outside for all the major sporting events.
Props Brewery & Tap Room
Sandwiched between two major United States Air Force bases on the Emerald Coast of Florida sits Fort Walton Beach, home to the first Props Brewery location. The small-scale microbrewery, brewpub & grill opened in 2011 by active duty members of the Air Force. The brewery, and many of their beers, are named for the owners' shared experiences in propeller aircraft during their military careers. 
Framed pin-up photos and paintings by active duty and military veterans line the walls, the brewery's signature propeller hangs from the ceiling and there's an open view to the brewery for patrons to watch the brewing process first-hand. There are 13 beers on tap that all give nod to military aviation history – like the Flying Coffin IPA, named after the original logo of the 39th Airlift Squadron, and the Blonde Bomber Ale, a tip of the hat to the aircraft nose art of World War II planes. Their second location sits north of the bay in Niceville. Both have the same tasty home-crafted beer, great food and the strong ties to service and patriotism. 
3rd Planet Brewing
This ever-popular hub of beer and live entertainment is located in the heart of Niceville, Florida. 3rd Planet opened in 2016, founded by two military veterans with a passion for beer and fun. This brewery has quickly expanded with a second location close by. Both offer an impressive selection of craft beer, in addition to selling brews from other local breweries. 
Recently named the 17th Fastest Growing Brewery in the U.S., 3rd Planet is more than just a brewery. Dog and kid-friendly, this BYOF (bring your own food) hangout spot offers outdoor yard games, a patio and a cozy taproom with handcrafted beers from an ever-growing number of taps. 3rd Planet currently has nine year-round beers that reflect the area, like the Choctaw-hoppee IPA, Boggy Bayou Stout and Turkey Creek Tripel. If you're vacationing near Destin or 30A this is a great one to make the short jaunt across the water to experience for yourself.
Idyll Hounds Brewing Company
Situated in sunny South Walton just minutes from Scenic Highway 30A, you'll find Idyll Hounds, a flavor-first brewery founded in 2013 living by their motto with Florida-inspired craft recipes. The Idyll Hounds name was inspired by the beautiful "idyllic" scenery of the Emerald Coast and paid homage to the owner's father, Mike "the Hound" Hansen who always inspired owner Frasier Hansen to follow his dream of starting a brewery.  
With a locals-first mindset, their beers are concocted with the finest ingredients, poetic attention to detail and memories that easily inspire lines of prose. Their beers are a consistent quality brewed with the beer enthusiast and novice drinkers in mind. The white sand beaches, blue skies and warm waters of Florida give inspiration to the carefully crafted fresh brews. The Idyll Hounds taproom is a welcoming, laid back gathering spot for locals and visitors alike to hang out, share stories and enjoy quality beers.
Grayton Beer Company
If you've ever tried the well-known 30A Beach Blonde or Rose' Gose then you've had Grayton Beer's most popular brew, as the 30A branded beers make up almost 70% of all the craft beer created and shipped around the country by this, the largest brewery in all of Northwest Florida's Gulf Coast. Grayton Brewery is tucked away on the Northwest Florida Coastline just off Hwy 98 in Santa Rosa Beach. Grayton Beer's expansive tap room bar is complete with 20+ unique beers, and games including darts, cornhole, and more. There's also a stage that's great for hosting bands and entertainment for your private event at Grayton Beer Company. 
Grayton Beer's second location, the Brewpub, is a fully operational brewery, restaurant and bar, open seven days a week for lunch and dinner. Located in the heart of Grayton Beach on Scenic Highway 30A, the Brewpub is uniquely outfitted with a 7-barrel small batch system producing creative and unique beers on a smaller system. Grayton Beer's company motto "Slow Down. You're Here." is reflected in their beer and complements the lighthearted panhandle mentality to provide pure, simple refreshment for visitors from around the world and locals alike.
Oyster City Brewing Company
Oyster City Brewing was conceived in 2012 by four friends with ties to Apalachicola and a shared love of great craft beer. The four set their sights on creating some really great brews and making their small community brewery the pride and joy of Apalachicola. After all, who says you can't be famous for more than the world's best oysters? Since that time Oyster City Brewing has grown through a series of ownership and management additions that has allowed this once small startup to compete on a much larger scale. 
The brewery currently produces kegs, cans, and growlers and sells and ships their beer across several Southeastern states, both to restaurant bars and retailers. Oyster City Brewing Company offers 12 to 15 beers on tap, ranging from their, Mill Pond Dirty and Apalach IPA to their Hooter Brown, Tate's Helle, Tupelo Honey Ale, and Dirty Blonde Ale.
If you're a country music fan you may also be interested in knowing that Oyster City Brewing has a pretty popular artist on its beer drinking roster, as in Brian Kelley who's one half of the hit duo, Florida Georgia Line, and quite the solo artist too. He liked the beer and believed in this company so much he became a part of it and has invested his time and resources to help promote the great American beach beer brand. Oyster City Brewing Company is located at 17 Ave. D in the heart of Apalachicola, Florida. Drop by, say Hi, and try out a few yourself. 
---
Find and book your next Gulf Coast getaway on BeachGuide.com. Or, save some time and call a friendly vacation planner seven days a week at 888-404-2602 for help finding the perfect beach vacation rental.