The 15th Annual Digital Graffiti
Where Illuminative Art, Architecture and Sound Collide in a Feast of the Senses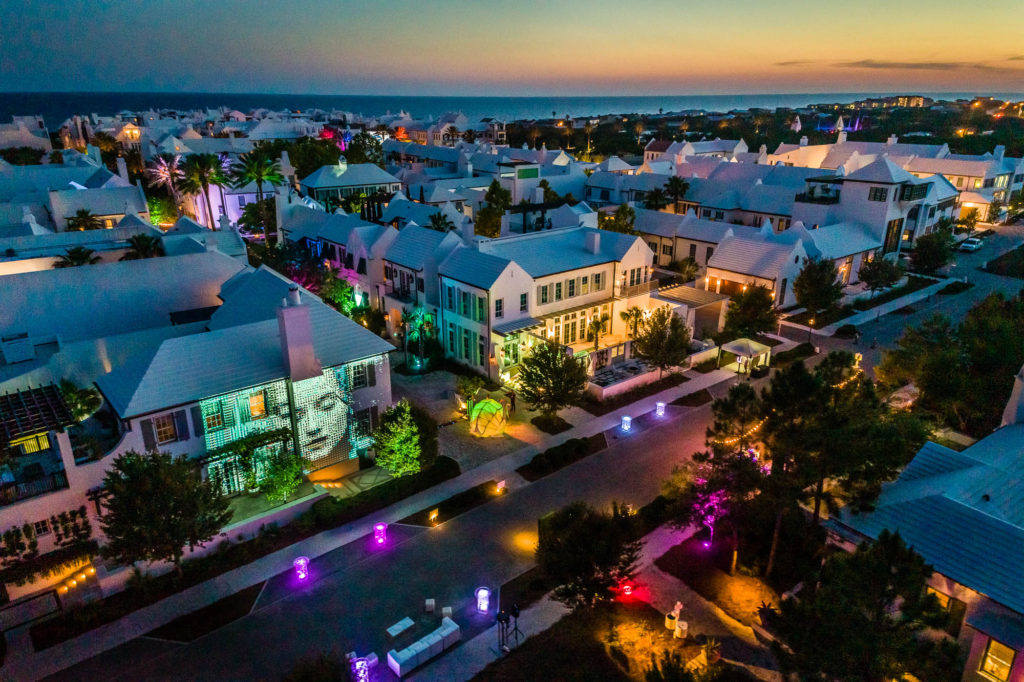 If you're a fan of art, architecture, and the beach you're certain to enjoy Digital Graffiti — one of the most popular of all events along the beaches of South Walton, just around the corner.
This year's spectacular 15th Annual Digital Graffiti at Alys Beach festival will be held May 13-14, 2022. The renowned upscale beach community, along famous Scenic 30A provides the ideal backdrop for the ever-growing festival, with its open-air, organic gallery for the projections of these one-of-a-kind original works of art.
Lit against the elegant white walls of Alys Beach's multi-million dollar custom beach homes, Digital Graffiti provides the ideal canvas for artists to show their blend of architecture and visual art combined with the backdrop of one of the most coveted coastal neighborhoods in the entire country. The engagement between the festival's thousands of guests, the art portrayed, and Alys' exquisite architecture is a rare and transformative experience, creating an interactive projection experience that is unique to the Digital Graffiti festival. The festival has been named one of the top "Unconventional Art Destinations Around the World" by National Geographic.
The evening festival features the Alys Beach homes, buildings and landscape, artistically illuminated by the latest in animation, unique design and projection technologies for all to see and admire. The two evenings of lighting innovation and fulfilled imagination with artists from around this great country, and abroad, showcase their magnificent talents in lighting art, animation, motion sound, graffiti short films, and more.
Buy tickets here while they last. Need a place to lay your sleepy head after the party? Check out Highway 30-A vacation rentals. And be sure to check out other top things to do on 30a.