Elevate Your Beach Trip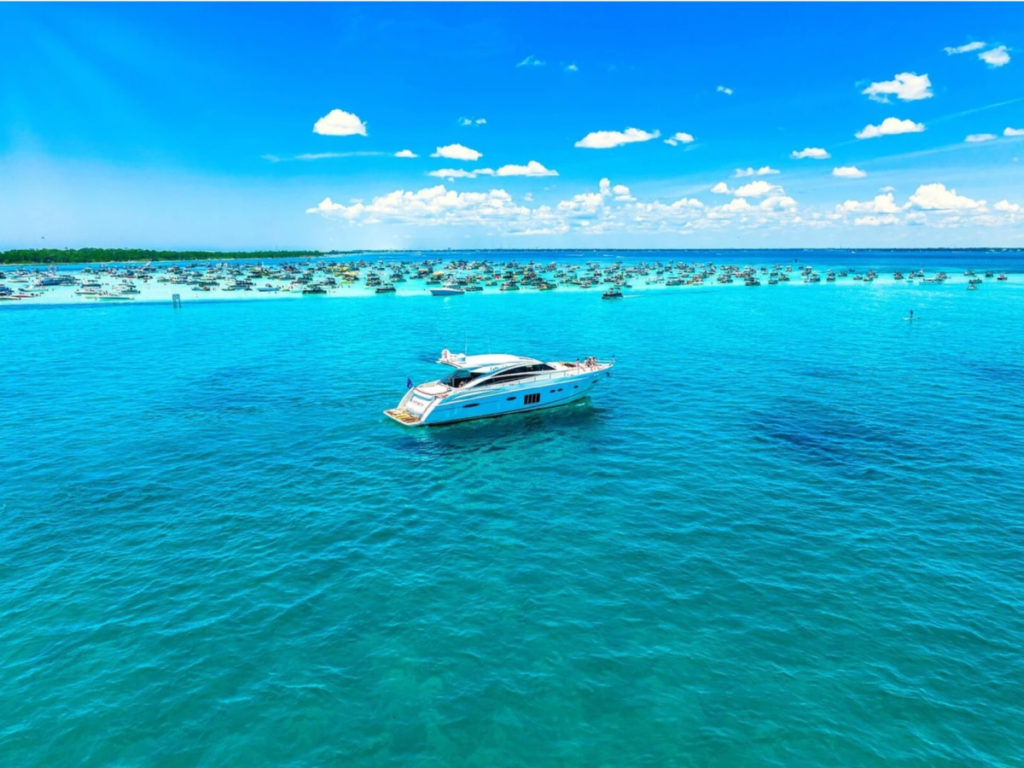 Infuse your beach trip with luxury indulgences for incredible memories, less hassle and more time spent with family and friends.
We can all agree a vacation to the Gulf Coast is a luxury in and of itself with time spent relaxing with family and friends surrounded by dazzling white sand and sparkling emerald waters. Vacations at their best give us a break from the daily routine so we can recharge and savor new experiences. Thanks to an influx of new services throughout communities along the Gulf of Mexico, you can now take your beach experience to a new level of indulgence!
From private chefs to yacht charters to glow-in-the-dark paddle boards and so much more, you can up the luxe factor to make your vacation even more memorable—and hassle free! We've scoured the Emerald Coast looking for wonderful ways to elevate your experience and truly feel as if you're in the lap of luxury.
Hire A Personal Chef
Of course we all know how convenient and easy it is to reserve beach loungers to save yourself the headache of hauling beach chairs back and forth to your favorite spot. A personal chef takes this concept to the next level allowing you can also take a break from grocery shopping, cooking and cleaning.
"It's a vacation after all," says Wade Bice, a Birmingham, AL, resident who frequently vacations along the Gulf Coast, as he recounts his experience hiring a private chef. "With a group of friends, we rented a large house in the Grayton Beach area. Hiring a private chef was just the right touch."
"Ultimately we had more quality time to enjoy each other. No one had to spend time grocery shopping or head in early from the beach to tackle cooking dinner — it was money well spent," he adds.
Two of our favorites chefs along the Gulf Coast are Chef Josh with Take It Personal Chef Service and Chef Chris Holbrook with Signature Catering. You can book chef services continuously throughout your vacation or hire one to handle a special event such as a bachelorette party, family reunion, dinner or birthday party. Best of all, menus can be customized to your tastes and budget.
Cozy Up To A Bonfire On The Beach
It's a classic beach scene—sitting around a roaring bonfire as the sun sets with waves crashing and a breeze blowing! Nothing tops this quintessential beach experience and great memories for all ages are a guarantee.
"About once a year we take a beach trip with extended family and friends. We're always looking for things to do that will entertain all ages in our group—toddlers to grandparents," says Megan Hicks, a long-time fan of the beaches along 30A. "I can't wait for a bonfire on the beach with s'mores—it will be a crowd pleaser and something we will remember for a long time to come!"
Thinking of tackling a bonfire on your own? We're here to tell you it's a big hassle especially for vacationers when you take into account the permits, supplies and clean up—not to mention how hard it is to light a fire while battling beach wind.
It's a good thing there are beach bonfire pros here on the Gulf Coast to call for service! When you stay at Sandestin Golf and Beach Resort, you can add a Family Fun Bonfire to your stay and the staff will handle it all for you. There are also two great companies we've used for beach bonfires—Vacayzen and Bonfires at the Beach 30A. They both offer add ons to your bonfire such as s'mores, beach chairs, cornhole, tiki torches and more. Both companies handle the permits which are required for beach bonfires. Keep in mind that bonfires can be hosted at most of the Walton County Public Beach Accesses located along Scenic Highway 30A and some in Miramar Beach.
Charter A Boat and Hit the Open Water
When the open water calls to you, chartering a boat is the answer! There are so many options along the Gulf Coast. First things first, you will need to decide what you are looking for in your boating adventure. You can find it all from family friendly pontoons to sunset tiki boat cruises to deep sea fishing trips to yacht charters—name your level of luxury and set the course!
Private Yacht
For a first class luxe experience, look no further than Holloway Yachts where you can lose yourself in comfort and style aboard your own private yacht. Holloway offers many packages including half-day, full-day and overnight trips with the option to add food and alcohol. For the ultimate experience, you can also book a private chef and rent a Sea-Doo for off-yacht exploring! Make sure to book well in advance if you have a particular date in mind such as an anniversary. (can be booked through BeachGuide at no extra charge by calling 888-404-2602)
Fishing Excursions
For many of us, a trip to the beach is not complete without a fishing excursion—and the waters of the Gulf of Mexico deliver some of the best fishing in the world. Fishing charters are bountiful and available for various durations and can be booked as semi-private or private. A great resource we love is Harborwalk Charters as they offer a fleet of 23 charter boats to choose from and all of them handle the tackle, licenses, bait and ice—all you have to do is catch the fish!
Tiki Boats
Feeling tropical? A whimsical thatched floating tiki bar is the answer! Serving up laid back fun is the specialty of Cruisin' Tikis Destin. You can putt around Destin Harbor to Crab Island during the day, at sunset or in the evening for a spectacular view of the harbor lights.
"I'm excited to hear about tiki boat cruises at the Gulf Boast! We spent an afternoon in Tampa on a tiki boat—sipping cocktails, listening to music and spending time with friends—it was a highlight of the trip. My next beach trip to the Gulf will definitely include a sunset tiki cruise," says Merrill McWhorter, a Mountain Brook, Ala., resident who loves beach destinations.
Tours can be booked for varying durations on a semi-private or private basis. Best of all, a captain pilots the floating bar so imbibe and enjoy the ride.
Pontoon Boats
Many a summer vacation centers around a fun-filled trip to Crab Island sandbar via a pontoon boat. Whether you are looking to spend a half or full day, you can rent a pontoon boat from TrueBlue Pontoon or Boogie Watersports and pilot your way through the calm waters around Destin and Okaloosa Island exploring the shoreline and swimming. Be on the lookout for dolphins and get ready for plenty of smiles and memories!
Glow Kayaks and Paddle Boards
When you're on the hunt for a unique nighttime activity, Glow Paddle is your go-to! Hop aboard a clear kayak or stand-up paddle board outfitted with LED lights and let the adventure begin. Set out at sunset for beautiful views and paddle around through the evening for a magical experience. Glow Paddle is available for booking in Pensacola, Navarre, and Gulf Breeze. You'll be hooked on the "glow" experience and will want to rent Glow Bikes next for more nighttime adventures!
Relax in Style with Picnics and Yoga Beachside
The phrase "when in Rome" comes to mind when thinking of all the great options for customizing your vacation. When you're at the beach, do all you can on the beach! A wonderful company Pensacola Picnic Co. offers a variety of gourmet outdoor dining experiences for brunch, lunch or dinner with options for intimate occasions such as proposals as well as group events. Specializing in grazing boxes and charcuterie, they handle all the logistics with fresh flowers, table settings and more. Customizations such as shrimp boils or oyster bakes are also offered. It's the ultimate picnic experience!
For zen on the beach, look no further than Swan Michelle, a Pensacola based company, bringing private beachside yoga to your stretch of beautiful white sandy beach throughout the Gulf Coast.
"Private yoga on the beach sounds like just what I need for my upcoming girls' trip to the Gulf," said Katherine Starr who is a regular vacationer in Navarre Beach. "We are running a 15K and post-race yoga will be a relaxing way to finish off the weekend!"
Swan Michelle also offers Beach Sound Baths, a lying down restorative concert on the beach. What could be more relaxing!
Park Your Car And Golf Cart Everywhere
Golf carts are abundant throughout vacation communities along the coast, and there's a reason! It's more fun and convenient to hop in a golf cart and meander around with fresh air blowing and the beautiful landscape an arm's length away!
"When my family spent spring break last year at Sandestin, we added a golf cart to our accommodations and it was the best decision," says Brandon Plowden, a repeat vacationer at Sandestin Golf and Beach Resort. "We took the golf cart everywhere—lunch, dinner, grocery shopping—you name it! We barely moved the car the whole trip. It was great to take a break from driving and all the hassles!"
Many resorts such as Sandestin offer golf cart rentals as part of their packages or you can work with one of many local companies such as Gulf Coast Rental Co.
Luxury is subjective to all of us. There are so many options for elevating your beach vacation to fit style and budget! We've barely touched on all that's available throughout the Gulf Coast—explore the options to customize your trip. Many vacation home rental companies will provide resources to help you plan your indulgent add-ons for your stay. One of our favorites is Paradise Beach Homes which offers a wide selection of large homes in Pensacola and Navarre Beach, many which are pet friendly and event friendly. Or, call a BeachGuide vacation planner at 888-404-2602.
_____________________________________________