These Dog-Friendly Beaches Welcome You AND Your Furry Friends
He or she may be your family's best friend, but when it comes to including Piper or Penny in your next beach excursion, knowing where your pooch will be welcome takes some extra planning. While it's true that many Florida and Alabama beaches don't allow dogs, there are still plenty of dog-friendly beaches, including the following.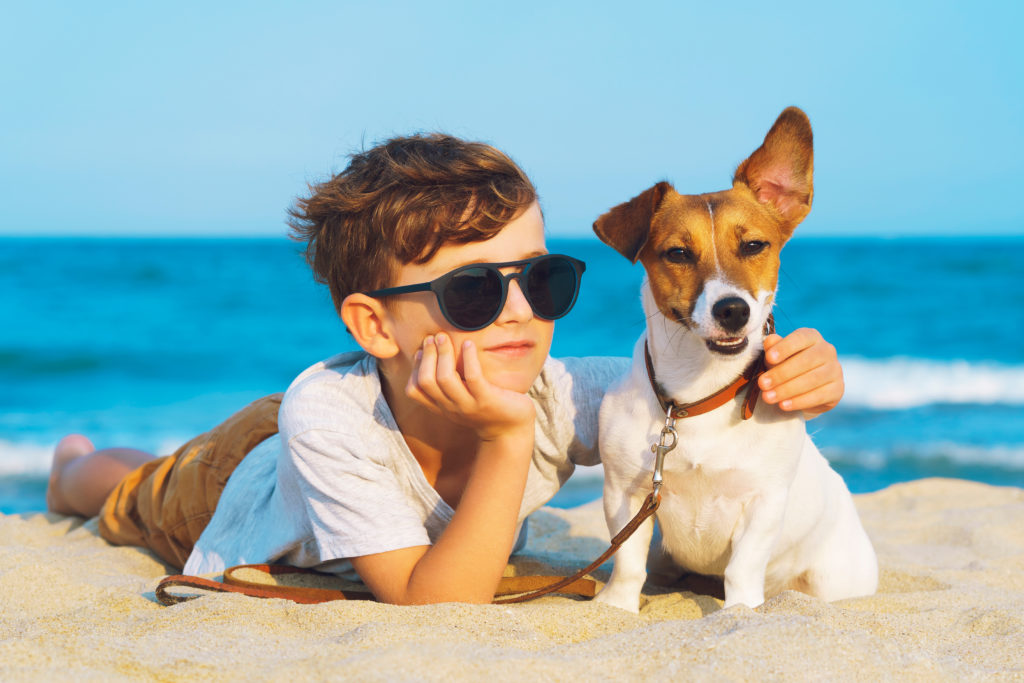 Dog-Friendly Beaches on the Gulf Coast
– DOG-FRIENDLY BEACHES IN PENSACOLA
In addition to its Gulf beaches, Pensacola offers attractions ranging from pre-Civil War forts to the National Naval Aviation Museum. Pet lovers will find a fenced-in playground for their furry friends at Bayview Dog Park and Beach. It's on a bayou off Pensacola Bay rather than the Gulf, but dogs love running free and swimming in its protected waters.
Fences around the park extend into the water to keep paddling dogs corralled. And the park has a platform with a hose for rinsing saltwater and sand off you–and Buddy or Bella–when it's time to head out.
Other local pet-friendly destinations include the Roger Scott Athletic Complex Dog Park, near the airport, and the Shoreline Bark Park. Located across the bay in Gulf Breeze, the Bark Park includes a special section for smaller dogs. Many Pensacola restaurants also offer pet-friendly outdoor dining areas.
For a great place to stay when you vacation in Pensacola, check out our Pensacola Beach vacation rentals and learn more about the area, including information about fishing, attractions and Pensacola Beach restaurants.
– DOG-FRIENDLY BEACHES IN PANAMA CITY
Long a favorite destination for beachgoers, Panama City Beach also welcomes pets. In addition to a dedicated dog beach, and several dog parks, many local restaurants are dog friendly.
A great place to treat your four-legged friend to all-things-beach is to the west of Russell-Fields City Pier, across Front Beach Road from Pier Park. Dogs on this 400-foot stretch of beach must be on a leash or under voice command. There's also another dog-friendly beach on the Gulf at the foot of Jimmy Buffett's Margaritaville.
Leashed dogs are also welcome in the outdoor areas of Pier Park, First Watch, Salty Sue's, Diego's Burrito Factory, and Hook'd Restaurants.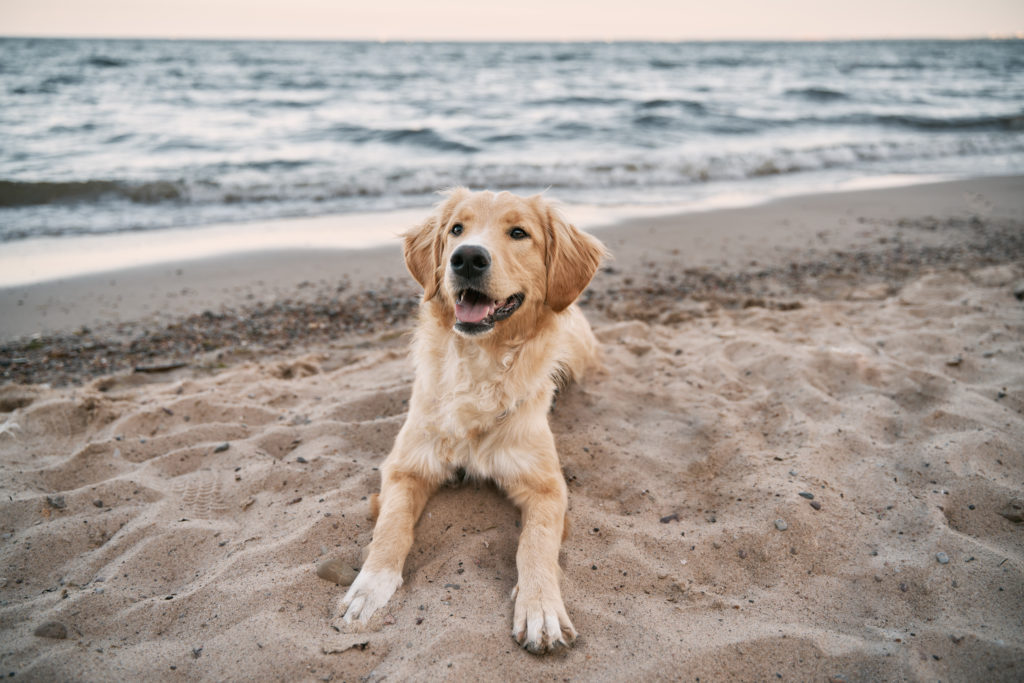 – DOG-FRIENDLY BEACHES IN GULF SHORES/DAUPHIN ISLAND/FORT MORGAN
Two of Dauphin Island's three beaches, near Gulf Shores, Alabama, welcome dogs to enjoy the sand and surf with their owners. The island's Public Beach and the East Beach are dog friendly, while the West End Beach Park does not allow dogs. This barrier island's uncrowded, unspoiled beaches are the perfect spots for you, your family, and your pets to enjoy the sugar-white sands and emerald waters of the Gulf of Mexico.
Human friends will also enjoy historic Dauphin Island's Fort Gaines and Sea Lab Estuarium, an aquarium whose exhibits highlight coastal Alabama habitats.
Dogs are welcome on the bayside area of the Fort Morgan Historic Site in Gulf Shores, running from the Old Fort Morgan Pier to the Old Fisherman's Wharf. Your buddy must be on a leash at all times, and they kindly ask that you clean up any waste.
Also worth a visit if you're in the area is Fort Morgan itself. The fort played a pivotal role in the Civil War guarding the mouth of Mobile Bay. Nature lovers will want to check out the trails at Bon Secour National Wildlife Refuge, which is off Fort Morgan Road.
For a great place to stay and much more, find Gulf Shores vacation rentals and links to more information about fishing, dining and attractions.
– DOG-FRIENDLY BEACHES IN DESTIN & SCENIC 30A
As popular a vacation spot as Destin is for humans, you might think there would be a dog-friendly beach along this stretch of coast. Not so. However, if you want to bring your best friend to Destin and need a place for outside romps, there is the Destin Dog Park, 3 acres of Bermuda grass, pine and oak trees. It's separated into large-dog and small-dog areas, has watering stations for dogs and humans, as well as benches, and waste receptacles.
In Walton County, Florida, where 30A is located, the beaches are dog-friendly only if you have a permit proving you are a resident or property owner. And then on a limited schedule, which currently is 3:30 pm to 8:30 am.
– DOG-FRIENDLY BEACHES IN GULF COUNTY, FLORIDA
Peaceful Gulf County, including Cape San Blas and other towns along the Northwest Florida's Forgotten Coast near Apalachicola has no high-rises, and no crowds – just 43 miles of quiet beaches. And if that isn't enough to make this area alluring, add the fact that your best friend is welcome to join you on almost every one of its many beaches. The only exception is the beach at St. Joseph Peninsula State Park.
Convenient pet-waste disposal stations with plastic bags are positioned at all public-access points to the beach. Please remember to clean up after Fido or Fifi if needed to leave the beautiful beaches as pristine as you found them.
Many local accommodations, which range from small condominium properties to big single-family homes, also welcome pets. Find Cape San Blas vacation rentals and other information about the area.
– DOG-FRIENDLY BEACHES IN ST GEORGE ISLAND
Well-behaved pets are always welcome on this 28-mile-long barrier island, near Apalachicola and also along the Forgotten Coast. Dogs are allowed to roam free on the island's flat, wide beach, as long as they can be controlled by verbal commands. Otherwise, they must be leashed.
Running water, trash cans, and plastic bags are conveniently available at beach-access points. Many of the island's stores and restaurants allow pets in their outdoor areas as well.
There are plenty of pet-friendly accommodations available on the island. Visit our links at St. George Island, Florida, for places to stay and other information.
– DOG-FRIENDLY BEACHES IN FORT MYERS BEACH
Dogs can run free without a leash at the Bonita Beach Dog Park, a sandy strip located on the outside edge of Lover's Key State Park. There is no running water, though, so make sure and bring some for your pets. And there are no fences, so owners need to supervise their furry friends at all times.
While pets aren't allowed in neighboring Lovers Key State Park, it's well worth a visit. A haven for wildlife and one of the finest coastal nature preserves in the nation, the park also offers hiking and biking trails, a boat ramp, picnic facilities, and a concession featuring kayak tours and rentals for bicycles, canoes, kayaks, paddleboards, beach chairs, and umbrellas.
Learn more about Fort Myers Beach, Florida and find Fort Myers Beach vacation rentals.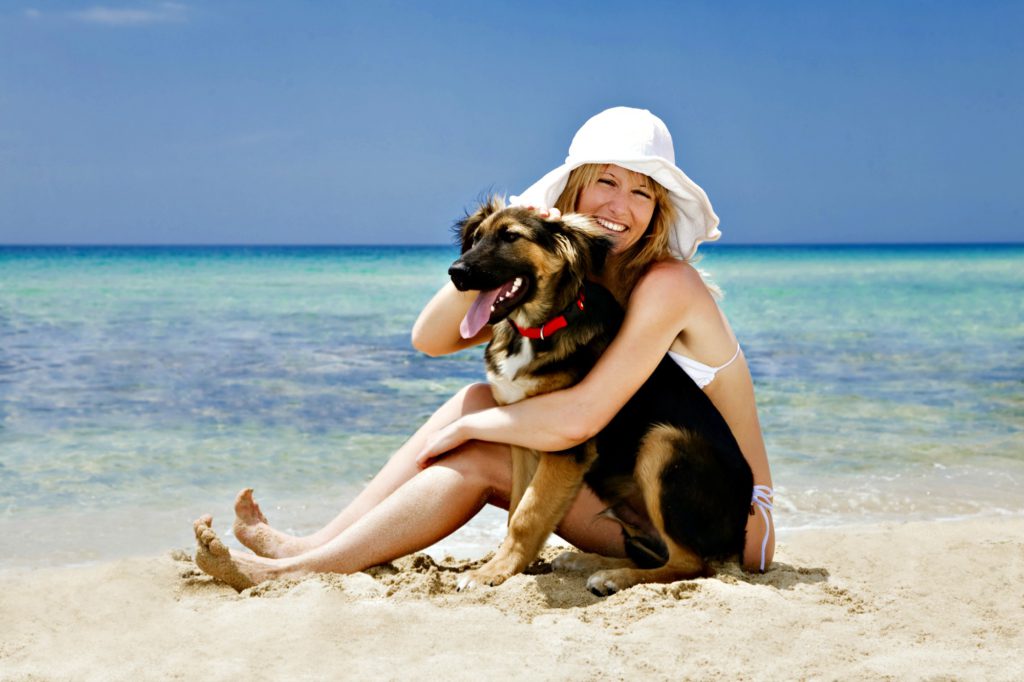 – DOG-FRIENDLY BEACHES IN ISLAMORADA
Secluded and shady, Anne's Beach in Islamorada is a great spot to spend the day with your dog.
There's lots of shallow water and minimal wave action which make paddling around with your pooch all the more enjoyable.
Also provided are poop bags and fresh water for pets' use.
Human visitors appreciate the boardwalk, five covered pavilions, and picnic tables.
Visit our Islamorada, Florida, links for more about this Florida Key vacation destination.
– DOG-FRIENDLY BEACHES IN KEY WEST
Key West will forever be linked to legendary writer and resident Ernest Hemingway. Enthusiasts know that he loved cats–specifically multi-toed cats known as polydactyls. Although Hemingway passed away in 1961, many descendants of his beloved cats still live in and roam Key West.
What many don't know is that Key West is also a great place for dogs–including those who like to have fun in the sun. The Key West Dog Beach, at the end of Alberta Street, is a great place for your pup to splash and romp.
And when you finish frolicking on the beach, it's just a short distance to pet-friendly Louie's Backyard, where you can sip something cold and dine on Caribbean-American cuisine.
For more about Key West, check out our Key West, Florida vacation guide.
– THREE DOG-FRIENDLY BEACHES IN ST. PETERSBURG
Fort De Soto Park has nearly two football field lengths of leash-free beach, known as Paw Playground, ready to welcome you and Max or Molly. The beach playground is divided into large-dog and small-dog sections, where your buddies are free to run off leash in the sun and paddle in the Gulf of Mexico.
The park also has cooling stations for your dogs, complete with showers and dog-level water fountains. Cleanup bags are provided by Friends of Fort De Soto through donations and membership fees.
Humans will enjoy other amenities at Fort De Soto as well, such as nature trails, food and drink concessions, picnic areas, playgrounds, restrooms, and showers. The facilities are wheelchair accessible.
There's another dog beach in the St. Pete area at Honeymoon Island State Park. Pets must be on a six-foot, handheld leash to enjoy the park, which includes an area of clear, shallow water that's the perfect depth for dog paddling and wading.
Leashed dogs may also enjoy the park's nature trail. At the southern tip of Honeymoon Island, the dog beach affords gorgeous views of Caladesi Island and the Gulf of Mexico. Amenities for humans include nature trails, picnic areas, concessions, restrooms, showers, and a children's playground.
A third St. Pete dog-friendly beach is Pass-a-Grille Dog Beach, a four-mile stretch of sugary sands and gentle surf. Dogs need to be leashed, and owners are responsible for cleaning up messes. Be aware there are lots of seashells and large rocks on the shoreline which could hurt your fur baby's paws.
For St. Pete Beach vacation rentals and more information about the area, visit our links at St. Pete Beach, Florida.
– DOG-FRIENDLY BEACHES IN SANIBEL ISLAND
Pets are welcome on Sanibel beaches as long as they're leashed. Especially nice for Fido or Fifi is Gulfside Beach (also known as Algiers Beach), which is next to a nature preserve. Owners must clean up after their pets. There are restrooms and picnic tables for human visitors.
There are plenty of pet-friendly vacation rentals available on Sanibel and neighboring Captiva Island. Many local restaurants welcome pets in their outdoor dining areas as well.
Find Sanibel and Captiva vacation rentals, restaurants, fishing, and area attractions.
– SHARE THE DOG-FRIENDLY-BEACHES' FUN WITH YOUR BEST FRIEND
Now you know there are lots of dog-friendly beaches, so when you plan your next beach vacation, rather than boarding Max or Molly, you can bring them with you to share all the fun. While planning the trip, take a look at our online shop for items such as life jackets and collapsible food and water bowls to keep Max and Molly safe and satisfied while having the time of their lives on the beach – https://shop.beachguide.com/collections/pets.
This article was originally written by S. Lynn and is updated yearly by BeachGuide staff.
See our Pet-Friendly Beach Vacation Rentals collection on Pinterest.
And check out these
7 Plan-Ahead Tips for Taking Your Dog to the Beach.Save