2023 Pensacola Beach Songwriters Festival
Celebrating the Writers and Stories Behind Their Songs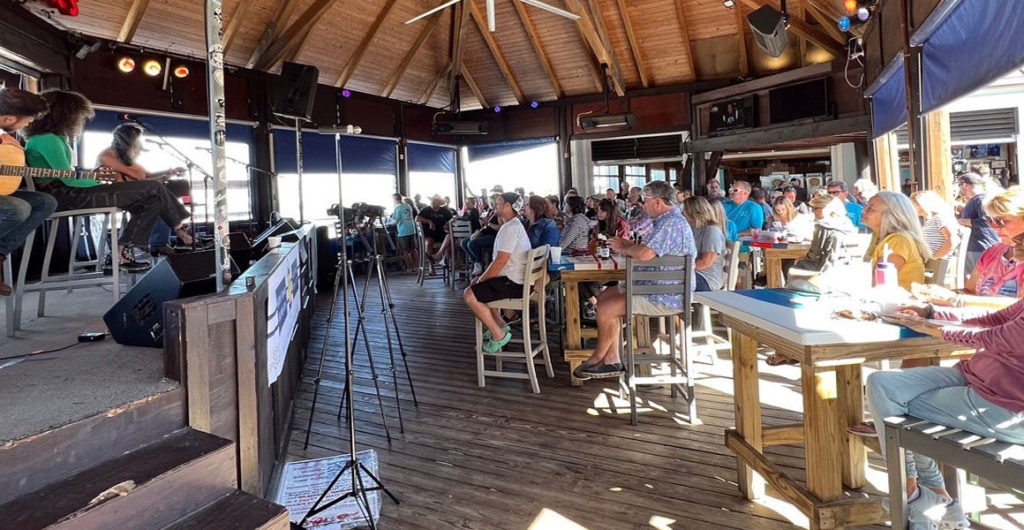 MORE THAN 100 SONGWRITERS SET FOR THE 2023 PENSACOLA BEACH SONGWRITERS FESTIVAL
If music provides the soundtrack of our lives, then songwriters deserve a lot of credit. It's not easy to eloquently string together lyrics that touch hearts and souls deeply enough to earn such esteem. More than 100 of such songwriters are scheduled to perform and share stories at the 2023 Pensacola Beach Songwriters Festival.
Some musicians pen their own songs, while others use lyrics written by outside writers. Plenty of both are expected to participate in the upcoming 2023 Pensacola Beach Songwriters Festival, scheduled for Oct. 4-8 at various locations around Pensacola Beach and the downtown area.
Songwriters from across the globe will perform and tell stories about their songs at 19 venues. There will also be lots of tropic-driven special events. Most performances will be free to the public. Some performances and events will require tickets. Either way, you're sure to enjoy the lineup!
SAMPLING OF SONGWRITERS PERFORMING AT THE 2023 PENSACOLA BEACH SONGWRITERS FESTIVAL
A few examples of songwriters planning to perform at this year's Pensacola Songwriters Festival include award-winning Don Sampson, Bridgette Tatum, and Jamie O'Neal.
Don Sampson's songs include Brad Paisley's "Waitin' On A Woman," and Alan Jackson's "Midnight in Montgomery". He's also written songs recorded by Darius Rucker, George Jones, Tammy Wynette, Willie Nelson, Kenny Rogers, Kenny Chesney, Tim McGraw, and Charlie Pride, to name a few!
In 2009, Bridgette Tatum co-wrote "She's Country," recorded and released by Jason Aldean, which earned the status of most played song on country radio stations across the United States. The following year, her song "Loud" was chosen as the official theme song for the Atlantic Coast Conference Football's 2010 season.
Jamie O'Neal is a Platinum-selling country singer and songwriter with a long list of successes, including in 2001 recording back-to-back hits "There Is No Arizona" and "When I Think About Angels". She has written hits for Reba McEntire, Martina McBridge and Leanne Rimes, to name a few. And she is in the soundtracks of major movies, including "Bridget Jones's Diary" in which she sang the song "All by Myself".
2023 PENSACOLA BEACH SONGWRITERS FESTIVAL PERFORMANCE & SPECIAL EVENT VENUES:
PENSACOLA
From The Ground Up Community Garden
Goat Lips
Oyster Bay Boutique
Hilton Garden Inn
The Handlebar
Studio Amped
PENSACOLA BEACH
Bamboo Willies
Pensacola Beach Church
Casino Beach Bar & Grille
Flounders
The Sandbar – Frisky Dolphin
Hampton Inn Pensacola Beach
Holiday Inn Resort
Paddy O' Leary's
Paradise Bar and Grill
Red Fish Blue Fish
Sandshaker
The Pensacola Beach Resort
2023 PENSACOLA BEACH SONGWRITERS FESTIVAL SPECIAL EVENTS:
Concert of Light/Night with the Veterans
Celtic Collaboration
Mermaids & Music
Oyster Bay Event
Garden Party
Ministry of Music
From The Ground Up
Songwriting Creative Entrepreneurship Workshop
Unplugged
Studio Amped
Bluegrass Beach Bash
Visit Pensacola Beach Songwriter's Festival (pensacolabeachsongwritersfestival.com) for more information.
And visit Pensacola Beach vacation rentals (beachguide.com) if you need a place to stay while you attend the festival, or call one of our friendly vacation planners at 1-888-698-1488.
Whether you're a songwriter, musician, music lover, or all three, this event is sure to be one you'll enjoy and learn from!