10 Fun Things To Do in Fort Walton Beach, Florida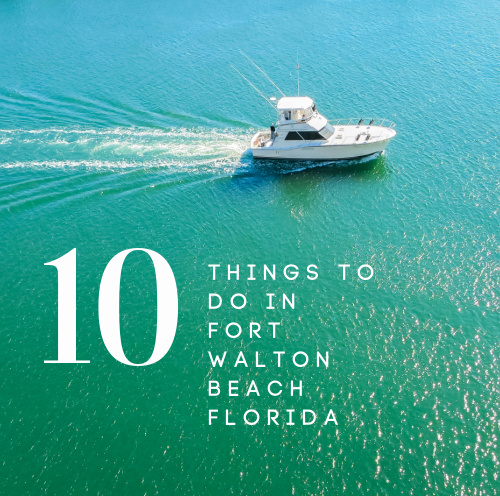 There's no doubt that a stay in Fort Walton Beach, Florida, can be great for recharging the batteries. However, while spending a few days relaxing in a beach chair with the world-famous sugar-white sands between your toes is a great way to pass your time, there are many other family-friendly and couples' activities to be found here. The Fort Walton Beach area is full of culture, history, and family fun. Read on for 10 of our top things to do in Fort Walton Beach.
Billy Bowlegs Pirate Festival
If your travels land you in Fort Walton in early June, then you are in for a treat, because the city puts on what is perhaps the best pirate-themed festival in the country. Taking over the waterways and banks of downtown FWB the first full weekend in June each year, the Billy Bowlegs Festival  has something for everyone. With pub crawls, live concerts and entertainment, shopping specials, parades, pirate revelry, and fireworks, there's sure to be something going on that each member of the family will enjoy. Festivities usually start on Thursday and are spread out through the entire weekend. (This year's festival has been canceled due to COVID-19, but make sure to mark your calendar for next year's event.)
Gulfarium Marine Adventure Park
Watching coastal animals from afar is cool, but seeing them up close and touching them is even better! Featuring dolphin shows as well as hands-on activities such as feeding penguins and swimming with stingrays, the Gulfarium is a true gem. Part educational and full-time fun, this park even allows visitors to serve as "VIP trainers" and work alongside staff for adventures that may or may not include getting a wet kiss from a harbor seal.
Air Force Armament Museum
Military history buffs will feel as though they have hit the jackpot with this trip down memory lane. Located near the main gate of Eglin Air Force Base, the Air Force Armament Museum features a dazzling display of some 30 reconnaissance planes, fighter jets, and bombers outside the building. Inside, you can feast your eyes upon hundreds of artifacts from periods ranging from World War I to today's combat zones. An onsite fighter cockpit simulator provides an interactive experience. The armament museum is the only place in the country dedicated to displaying Air Force armaments publicly. Be sure you also check out the fastest plane ever built — the SR-71 Blackbird Spy Plane, on display at the museum — before you jet away.
Emerald Coast Science Center
Designed to make science fun for kids, this awesome hangout on Southwest Memorial Parkway boasts interactive exhibits and activities that allow kids and family members to do everything from flying models in a wind tunnel to getting an up-close look at tarantulas and other creepy-crawlies, or playing with electricity gadgets that make your hair stand straight up. The Emerald Coast Science Center is like a field trip without the schools or long lines. Come for the science, then stay for a picnic. The center's location next door to a neighborhood park near Santa Rosa Sound will inspire just as much as the hands-on approach to science inside will spark the imagination.
Heritage Park and Cultural Center/Indian Temple Mound Museum
Putting the past proudly on display is the mission of this educational center, a kind of living time capsule where visitors can glimpse history of this area dating from about 14,000 B.C. through the 1950s. The Indian Temple Mound Museum houses one of the largest collections of Native American artifacts in the Southeastern United States (more than 1,000 pieces of stone, clay, bone, ceramics, and shell) and is on the National Register of Historic Places as a National Historic Landmark. Telling the story of the beginning of the modern community of Fort Walton, the Camp Walton Schoolhouse Museum and Garnier Post Office Museum hold an eclectic display of photographs, documents, and other items from early 1900s Okaloosa County, when it was mainly a rural area.
Wild Willy's Adventure Zone
When the family is split over having a beach day or having an amusement park day, this park can act as the perfect compromise. Located on Okaloosa Island, directly across the street from the Boardwalk and the world-famous sugar-white beaches, Wild Willy's offers an impressive array of fun with a 16,000-square-foot arcade, two miniature golf courses, a rope course, a Laser Maze, and an Inflatable Zone. In other words, it's a kids' dream and parents' lifeboat. After working up an appetite, fill their bellies at the onsite pizza and yogurt shops. With its location adjacent to several Fort Walton Beach vacation rentals, Wild Willy's is the perfect spot to enjoy relaxation on one side of the street and family adventure on the other — without ever having to get in the car!
Okaloosa Island Fishing Pier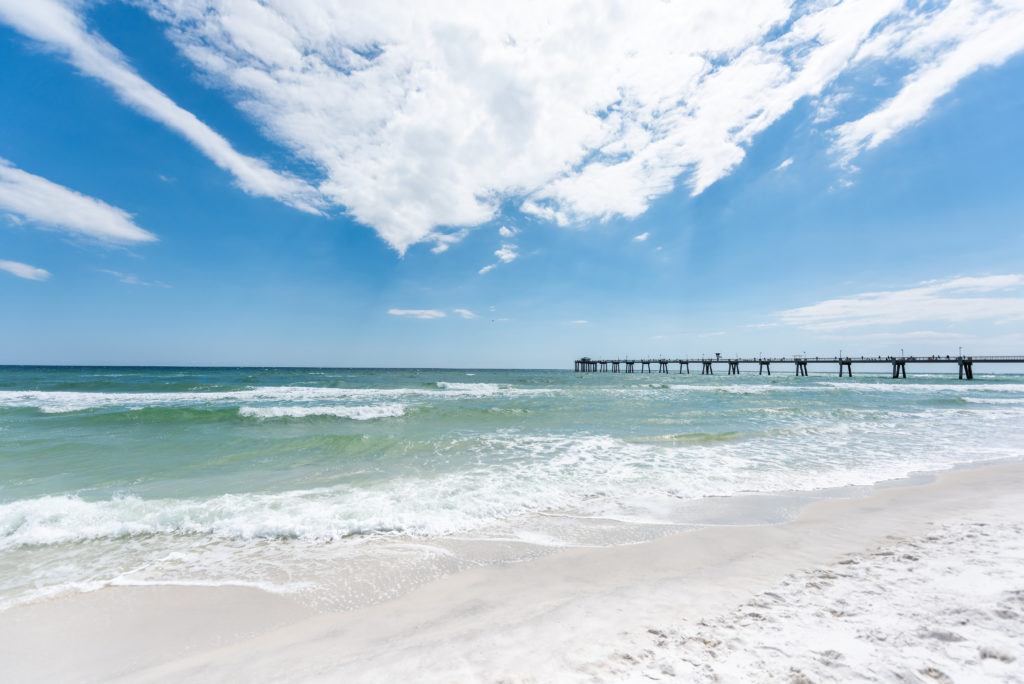 Change your vantage point with the views from this pier, which extends out into the gorgeous Gulf of Mexico for nearly a quarter of a mile. Whether you just want to take in the breathtaking views of the sparkling Emerald Coast waters up close, or if you are really itching to try your hand at catching your own dinner, this pier will serve you well. Extending more than 1,200 feet from shore to the octagon at the end, the pier offers fishing that is often just as great as a chartered boating trip. From the pier, anglers can expect to catch tarpon, tuna, pompano, king mackerel, cobia, and several other species. Don't worry, there are shops where you can buy bait and rent fishing tackle, so just bring your sense of adventure and be ready to create memories.
Within walking distance of the pier is one of the most popular resorts on Okaloosa Island, Waterscape Resort. Besides enjoying views of the Gulf and pier, guests love the oasis of pools, lazy river, and family-friendly atmostphere.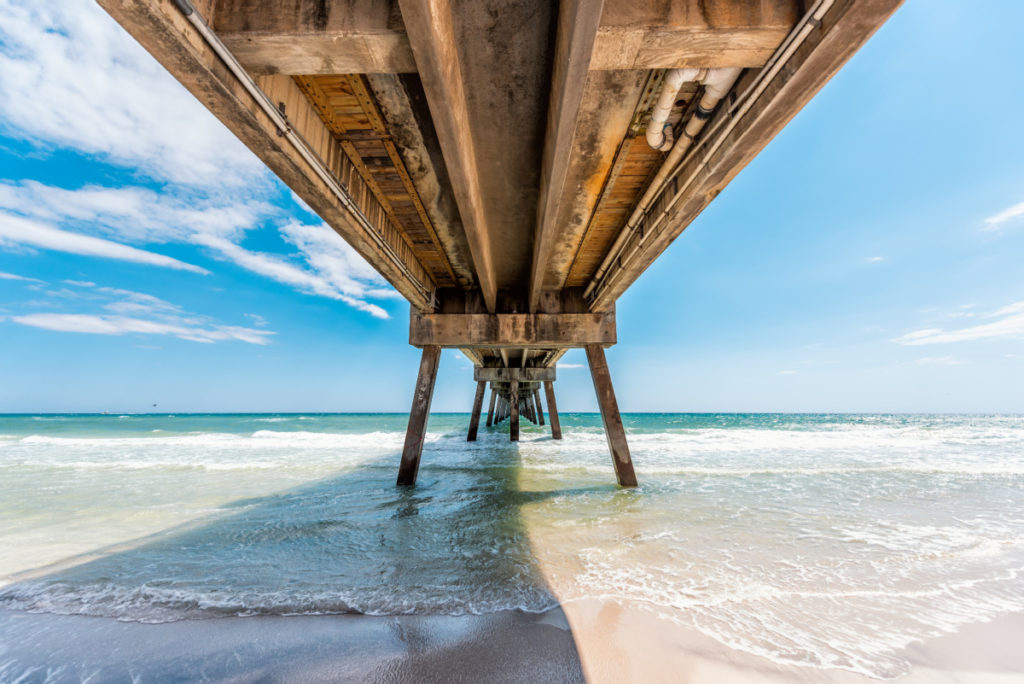 The Boardwalk Okaloosa Island
So you've spent an entire day of relaxing on the beach, and come nighttime you are ready to fill up on succulent seafood fresh from the Gulf! The Boardwalk at Okaloosa Island offers several options for Fort Walton Beach restaurants! With The Crab Trap Seafood and Oyster Bar, Floyd's Shrimp House, AJ's Beach Club and Burger Bar, Pino Gelato, and Rockin Tacos, there is something to accommodate any and every craving. So while days might be great for sunbathing, nights on Okaloosa Island will have you enjoying great dining in the moonlight.
For a nightlife alternative that is not on the island, go into town and check out The Block, which is a club that features three different experiences all under one roof. This club features a country music room with a mechanical bull, a sports/karaoke bar room, and a "cell block" room featuring a DJ and high-energy music.  
Spend a Day Out on the Water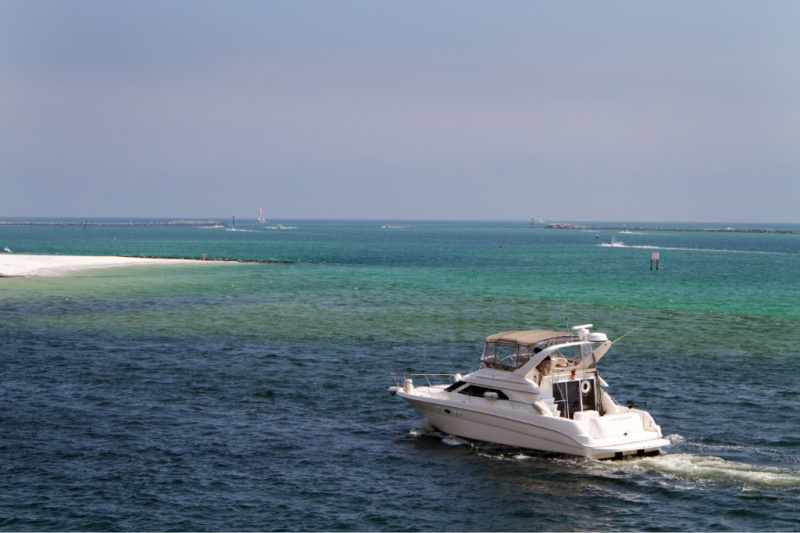 Rent a pontoon boat and find that perfect spot to anchor and enjoy a day away from the beaches. Crab Island is a popular hot spot and an easy place to anchor a pontoon boat for a few hours or most of a day. You'll find plenty of options for pontoon boat rentals in our Fort Walton Recreation listings. 
Fort Walton Fishing charters are perfect for the adventurous anglers who are itching to try out what is considered to be some of the best sport fishing in the world. These deep-sea excursions will not only yield spectacular views, but will also net triggerfish, grouper, cobia, Spanish mackerel, king mackerel, yellowfin tuna, red snapper, amberjack, sailfish, marlin, wahoo, bluefish, and tarpon (depending on the season). Plus, you'll have the help and guidance of an experienced captain, so those fish won't stand a chance against you and your crew.
Create Spectacular Sandcastles and Collect Seashells

The pristine beaches are what attract most to book a vacation to Fort Walton. Beach Sandsculptures offers several packages, including a two-hour session of professional sand-sculpting tips and techniques that will have the entire family working together to create a masterpiece. All tools and equipment are provided, so you need only to bring your imagination and get ready for some family fun in the sun.
Save
Save
Save
Save
Save
Save
Save
Save
Save
Save
Save
Save
Save
Save
Save
Save
Save
Save
Save
Save
Save
Save
Save
Save
Save
Save
Save
Save