Top 10 Fun Things to Do in Destin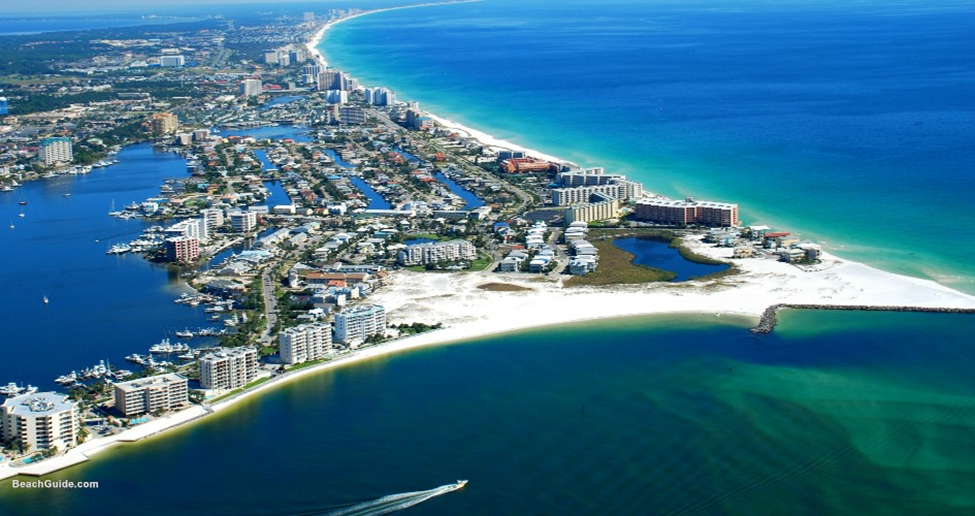 If you're looking for the top fun things to do in Destin, you landed in the right place.
Vacationers travel from across the globe to enjoy all that Destin has to offer, including world-class fishing, golfing, seafood, shopping, watersports, theme parks, and more.
This picturesque town on the Florida panhandle between Fort Walton and Scenic 30-A is home to some of the world's most-beautiful pristine-white beaches, emerald-blue-green waters, and clear skies most days of the year. Combine its natural beauty with the endless choices for adventure and entertainment, and you'll find Destin unparalleled when it comes to having the time of your life.
Here's some ideas for taking your Destin vacation to new heights!
Go Fishing
Destin has long been known as "The World's Luckiest Fishing Village" for a reason.
It is!
The variety of fishing options in Destin is seemingly endless. You can charter an offshore trip; cast a line into the surf; fish from docks, piers, jetties and/or bridges; or kayak in Choctawhatchee Bay or Destin Harbor.
Destin is unique in that deep water is within a half-hour of its shores, so catches such as grouper, snapper, amberjack, marlin, mahi-mahi, wahoo, tuna, and more are well within reach. Inshore and near-to-shore, you could hook into redfish, speckled trout, Spanish mackerel, flounder, bull red drum, striped bass, and more.
Destin Harbor is home to the largest charter fishing boat fleet in the state of Florida. Find info on Destin Charter Fishing boats for your next offshore trip, including types of fishing, number of passengers, fees, and more.
If you're a landlubber and would rather fish close to shore, the Okaloosa Island Pier is a great choice. It extends 1,262 feet into the Gulf and offers scenic views, including sometimes seeing what you're fishing for in the clear waters below. You'll need to have or purchase a day fishing pass, which you can buy there. They also rent rods and reels and have bait and tackle for sale.
Local bait-and-tackle shops are great resources for finding out what's biting–and where–during your visit. Bait shop employees are happy to share insider information in hopes you'll purchase from them what you need to haul in those catches.
Party at Crab Island
Rather than an island, this popular Destin attraction is actually a submerged sandbar just north of the Destin bridge. Easily accessible by boat, pontoon, or Jet Ski, the depth of water covering the sandbar ranges from 2 to 10 feet.
Boaters anchor on Crab Island, then set about to enjoy themselves swimming, snorkeling, playing frisbee, football, volleyball, hunting for hermit crabs and other sea creatures, and just spending time together in the beautiful surroundings.
Floating waterslides and bars, snack and beverage vendors, and music playing on party barges during weekends add to the fun.
Whether you bring your own boat or rent a pontoon or Jet Ski to spend time at Crab Island, once you've experienced the fun, you're sure to head back during every Destin vacation!
Play Golf
Because of Destin's wonderfully mild weather, golf is a year-round activity. This coastal town is well known for its beautiful courses which boast of more than 1,000 holes. Many of the courses were designed by top golfers including Fred Couples, Tom Fazio, and Jerry Pate, and offer views of the Gulf and Choctawhatchee Bay.
Whether you're a break-neck competitor, or just want to play leisurely rounds with friends, you're sure to find the perfect course in Destin. Find info to schedule your tee time by visiting our Destin Golf page.
Revel in Water Sports
Whether you bring your own equipment or rent from a local business, you're destined for a wonderful adventure. It would be a shame to be so close to some of the world's most beautiful waters and not take full advantage!
The list of watersports options goes on and on. Choose one or try them all!
Paddleboarding – Take advantage of a unique vantage point and have a ball standing, balancing and paddling all at once on a paddleboard.
Jet Ski or Wave Runner – A jet ski or wave runner is to a boat like a motorcycle is to a car. Hop on and zoom around unencumbered by your vehicle's size. In the surf as well as backwater, jet skiing and wave running is exhilarating and fun!
Kayaking – Sit and paddle as you skim the water's surface. Take it to the next level and rent a see-through kayak to catch views of the sea life beneath you.
Parasailing – Harness yourself to a parachute and be pulled by a motorboat. As you sail hundreds of feet in the air behind the boat, you'll have a bird's eye view of the Gulf below. If you like the rush of adrenaline you get from adventure, this sport is a shoo-in to be one you'll love.
Pontoon Boat – It's like a cross between a really nice boat and a small floating barge. There's plenty of room for lots of passengers to enjoy the ride, sit in the sun, and visit. Some pontoons are double-decker, and some high-end models are equipped with fun extras such as waterslides, BBQ grills, and small bathrooms.
Sailing – If you've never sailed, Destin might provide the best opportunity to learn. Sailing is associated with strength, precision, and the easy life. Reach for all three on a sailboat and you might find yourself hooked.
Snorkeling – A mask, snorkel, swim fins, and curiosity about what's in the water around you are all you need for a fun snorkeling adventure. Whether you hit the surf, Crab Island, or Choctawhatchee Bay, if this is your first snorkel trip you're sure to discover sights you've never seen before.
Jet Skis, pontoons, parasailing, and snorkeling boats all depart from the Harborwalk Village area. You can visit the area or arrange a trip in advance by visiting our Destin Recreation listings.
Build a Castles in the Sand
Discover your inner child, and keep the kids entertained at the same time, by learning how to build the best sandcastle ever. Beach Sand Sculptures, a Santa Rosa Beach-based company, offers sandcastle-building lessons year-round in Destin and communities all along the Emerald Coast.
Learn sculpting tips and techniques to build amazing castles in the sand as tall as 3-1/2-feet. It's an art everyone in your group is bound to cherish and use again and again.
Owners Rick and Capri Mungeam also create professional sand sculptures on demand to mark everything from marriage proposals and weddings to birthdays and anniversaries.
Eat Lots of Fresh Seafood
You'll find plenty of dining choices in Destin, from cozy hole-in-the-wall cafes to white-tablecloth eateries. Attention anglers: Many local restaurants will even cook your catch for you! Seafood is the star attraction in Destin, but there's also a mouth-watering array of restaurants serving up everything from old-fashioned Southern specialties, BBQ and burgers to Italian, Greek, and Mexican fare. And that's just scratching the surface of options!
So if you and your party have a particular hankering, or are just looking for the best place to enjoy a great meal, here's a comprehensive list of Destin restaurants.
Party at The Track
Fun for the entire family is the name of the game at this action-packed amusement park. Start your adventure by taking the wheel on one of five go-kart tracks and racing with the family. Then score some friendly competition on one of two themed mini-golf courses. And make landlubber memories in the bumper cars and splashy ones in the Blaster Boats–which are like bumper cars on water. Arcade-game lovers are sure to enjoy Fat Daddy's Arcade.
For thrill seekers, The Track has a skydiving ride called the SkyFlyer; a seated ride that spins, swings and flips called Hurricane 360; and the Spinning Coaster which and spins while zipping on a roller-coaster track.
There's also a Carousel, Ferris Wheel, and much more!
Spend the day at Big Kahuna's
It's the largest water park on the Emerald Coast! If you like giant wave pools, 5-story-tall waterslides, zooming water pipelines, relaxing lazy rivers and more, you'll love dipping all of your toes into Big Kahuna's.
There's also a Skycoaster and miniature golf to round out your activities. The park is centrally located in the heart of Destin, open seasonally and featuring enough rides and slides to keep visitors of all ages entertained.
Cruise Destin Harbor, Choctawhatchee Bay, and the Gulf of Mexico
Whether you've experienced the wonder of seeing dolphins frolic while you cruise alongside, you're in for the time of you life on one of Destin dolphin cruises.
The most-common dolphins around Destin are bottlenoses (think Flipper), which typically live in groups or pods of 10 to 30. Their natural propensity to perform acrobatics makes watching them a thrill.
Even without spotting dolphins, just seeing the natural beauty, including sunsets. is amazing in the waters around this slice of paradise known as Destin.
Check out the Shops
The variety of stores and boutiques for Destin shopping is wide and vast. Check out Merchants | HarborWalk Village (emeraldgrande.com) for everything from jewelry and candles to sportwear and kites. There's also The Village of Baytowne Wharf where you'll everything from find hand-crafted soaps, dolls and their accessories to kids' clothing and upscale ladies' sportwear.
Other shopping options include Silver Sands Premium Outlets, Destin Commons, and Grand Boulevard at Sandestin.
Be sure to stay in touch with us on our Destin facebook page and visit our site when you're looking for places to stay in Destin, FL. Or call one of our vacation planners at 1-888-404-2602.
Save
Save