Find Your Peace at the Best Secluded Beaches Along the Gulf Coast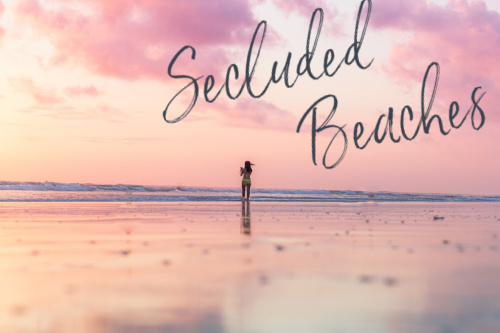 More and more people are flocking to the beach as domestic and outdoor tourism rises, which means several coastal areas are seeing an increase in visitors. While the benefit of a beach vacation during the COVID-19 pandemic is that it allows for relatively safe travel, you still don't want to be around large crowds, even outdoors. Even during "normal" times, there are people who prefer to have the beach to themselves and enjoy the seclusion. Here, we've rounded up five of the best secluded beaches in Florida and Alabama where you can have more than just a six-foot radius to yourself.
St. George Island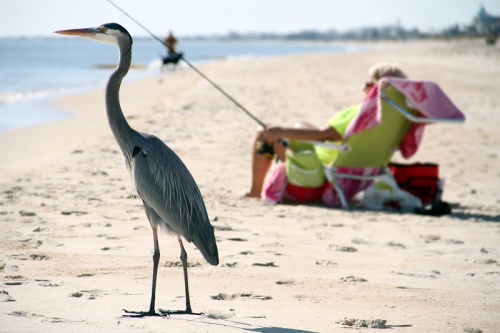 St. George Island is part of what's called Florida's Forgotten Coast. But that's not a bad thing – the beaches along the Forgotten Coast have stood the test of time without over-development and over-tourism. That means you won't find any high-rise condos or long lines of traffic here. The 22-mile barrier island of St. George is home to quaint beach houses, a beautiful lighthouse, and sprawling expanses of untouched beach. A little downtown area in the center of the island is the spot with the most "action." With less than 10 restaurants on St. George, you'll feel like a regular in no time. St. George is near Apalachicola, so you can enjoy the area's famous oysters at any of the restaurants.
Fort Morgan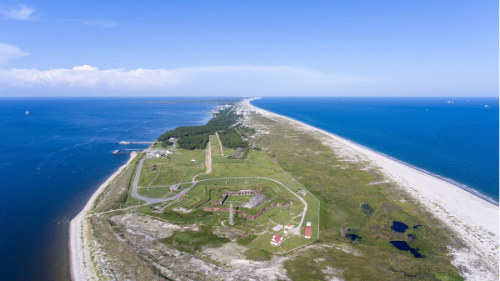 Not far from Gulf Shores – on the westernmost tip of Mobile Point peninsula – is Fort Morgan Beach. The area isn't nearly as developed as its neighbors to the east, which means there are fewer condos, fewer homes, and fewer crowds. You can normally find serenity on the private and public beaches of Fort Morgan. Your only company might just be a lanky heron looking for some fish. There is even a place on Fort Morgan called Quarantine Wharf – a perfect place for some views and social distancing. Head to the very end of the island to visit its namesake – the historic Fort Morgan.
Navarre Beach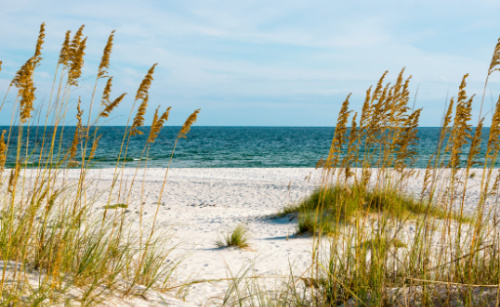 Navarre Beach is a little beach about halfway between Pensacola and Destin that enjoys all the benefits of Florida's Emerald Coast – white sand, bright turquoise water – without the hustle and bustle. Designated "Florida's Most Relaxing Place," you can enjoy the natural and unspoiled beauty of Navarre in peace. Dive the area's artificial reefs (you might spot sea turtles!), do some yoga on the beach, or wander the trails in one of Navarre's state parks or nature reservations.
Cayo Costa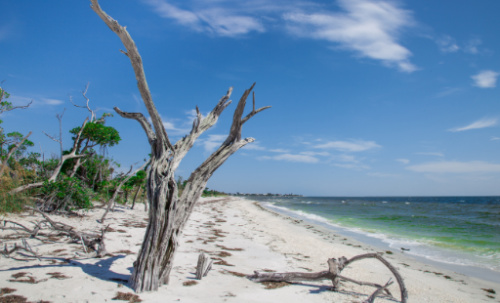 Have you ever wanted an island to yourself? You can have just that at Cayo Costa State Park in Southwest Florida. Off the coast off Fort Myers and just under Boca Grande, this Gulf Coast island boasts nine miles of untouched and undeveloped shoreline. Accessible only by boat, limiting the number of people that visit, Cayo Costa will give you the feeling of being on a Caribbean island with its white sand and calm, blue-green water. In addition to swimming, snorkeling, shelling, and shorebird watching, you might also spot dolphins and manatees surrounding the island. Cayo Costa offers primitive campsites and rustic cabins for those who want to stay overnight.
Bahia Honda State Park
Located in the Florida Keys just past the famous Seven Mile Bridge, Bahia Honda State Park will make you feel like you're at the edge of the world. With nothing but the sprawling, crystal clear ocean ahead of you, you'll feel as though you're truly secluded. The state park has 500 acres to explore, so you'll have plenty of space to yourself for shelling, snorkeling, picnicking, and more. As tall palm trees sway and beach grass rustles, you can relax on the award-winning beach knowing you've found your peaceful paradise.