Work Remotely from the Beach with These Vacation Rentals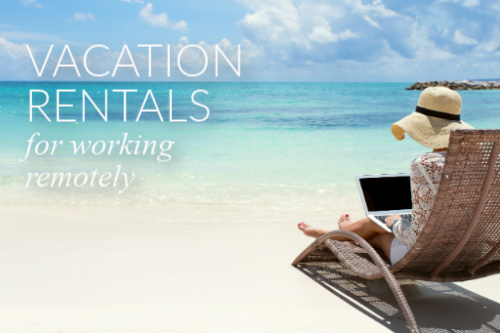 The COVID-19 pandemic has changed the way we live, play, vacation, and, more than anything, how we work. As more and more people began working remotely, they–and their companies–realized that many jobs can be performed from anywhere. So why not work remotely from the beach?
As vacation rental companies had to adapt to a new reality, many of them realized they needed to shift their model to one that was more inclusive of and geared toward remote workers.
One of those that quickly jumped on board was Russell Vacation Rentals, with 50 rental properties in Destin, Sandestin, and Miramar. The company was started eight years ago by Scott Russell and John Russell, both of whom have a background in hospitality with Ritz-Carlton.
"What didn't exist [when we started this] was a vacation rental company that has a hospitality background," Scott Russell says. "And so we wanted to bring our experience with Ritz-Carlton to the vacation rental segment here. So we started Russell Vacation Rentals with the model of Ritz-Carlton-level of service, both to our owners and to our guests."
REMOTE WORK AMENITIES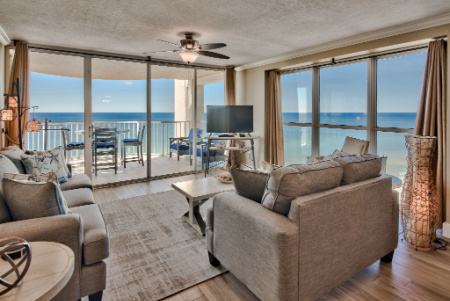 With that in mind, the team behind Russell Vacation Rentals knew that they wanted to provide that same level of service to guests that might be working remotely from the beach. During the Florida governor's shut down of vacation rentals in April and May, Scott and John took that time to reevaluate their model.
In addition to studying CDC guidelines and upping their already regimented housekeeping routine, Russell Vacation Rentals decided to introduce a rental program geared toward those working from home–a vacation home, that is.
"We asked how can we fit the needs of the traveler today, if they're working remote in a place that's not their home office," Scott says. "We want them to feel like they are in a home office. So we put together a working-remote program to make it an easy transition."
What that plan entails is that the Russell Vacation Rental offices are an extension of the guests' remote office. Whether they need something faxed, printed, or copied, they can go into the office and do it there. Or, they can email Russell to let them know what is needed and a Russell concierge will do it and deliver it to the guest's rental. In addition, upon check-in guests also receive information on grocery delivery, take-out dining options, and a $25 gift card to the local UPS store.
LONG-TERM RENTALS FOR WORKING REMOTELY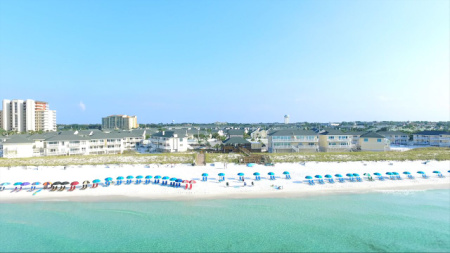 Since launching the remote-work program, Russell Vacation Rentals has seen an increase in the number of guests coming for longer visits. While it was previously primarily weekly rentals, Scott says they are now seeing more of a demand for monthly rentals, and they've adjusted their pricing models to accommodate that.
"I think more and more people are saying, 'Let's go down for two weeks, or let's go down for a month, because it's not keeping us from doing what we need to do,'" Scott says. "And, you know, they can take a break and walk on the beach."
Other vacation rental companies are also experiencing similar trends. Tammy Turner, rental manager at Sandpiper Cove in Destin, noticed they were receiving more bookings for October and November than years prior. Typically, things slow after Labor Day and monthly rentals pick up in January when the snowbirds come down.
"We have long term rates that start in October and go until March," Tammy says. "We have already seen a few people that are coming down that long. We normally have a large clientele of winter Canadian guests, but this year they can't come here [due to COVID-19 related border restrictions], but we've had a lot of other people booking for those months."
Tammy also noted that she's seeing more and more people coming Thursday–Monday, rather than Friday–Sunday. Sandpiper Cove's guests also have office amenities available to them, including faxing and copying services, WiFi in all the units and the main office, and an event center that can be rented for meetings, phone calls, or as an office for the day.
"You can come here and homeschool your kids or work remotely from here, and then you can enjoy the rest of your day at the beach," Tammy says.
Working remotely from the beach has been beneficial both for guests who want a change of scenery, as well as vacation rental companies who initially worried what the future might look like for them. Plus, there's nothing like feeling the sand between your toes after a long day's work.
For more options on long-term rentals, or for help planning a beach vacation, contact the BeachGuide office at 888-404-2602.